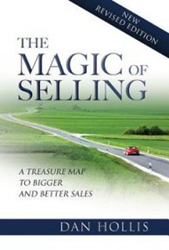 After all, if you want to be interesting, it helps to be interested.
New York City (PRWEB) February 26, 2015
Even though there are 1,001 things to master when selling – it really comes down to THE BIG 4:
1. Belief in your product or service
2. Being able to relate to all kinds of people and their different personalities*
3. Handling objections effectively
4. Product knowledge
*Its' important to find levels of commonality and build rapport. After all, people buy from people they like, that they get to know and trust.
DID YOU KNOW……….
75% of people just have 'jobs' - always looking at the clock as in "Is it 5 yet?!?"…like the Dunkin' Donuts guy. "Time to goooo make the donuts…I MADE the donuts!" 20% of people have 'careers' and the remaining 5% - it's 'true love'.
The 5% absolutely are obsessed with what they do and love it. Bottom line: if you can really find what you love and be able to help people, you have it made! It's not always about the money. You can have that love and help people. And money is a by product of that. In "The Magic of Selling" money is not evil, but the love of money is. There are so many great things one can do with money like take care of one's family, pay their bills, give to their favorite charity, etc..
"There is nothing in the world like being a great 'listener.' After all, if you want to be interesting, it helps to be interested. On a sales call you really should be more of a listener (75% of the time listening) and ask key questions," says Dan Hollis.
The most powerful word in sales is the word "ASK."
Top sales people know that today's sale really had to do with the work they put in from their many yesterdays!
Bonus: Always ask for referrals (but remember you give to get) –and- work on developing strong strategic alliances/raving fans of one another.
Be sure to read our blog here.
Pick up a copy of The Magic of Selling at Amazon.com
About Dan Hollis
Sales Trainer
Dan Hollis is the founder and sales trainer for of The Magic of Selling LLC. He works with businesses of all sizes to help their sales teams sell more effectively. He offers seminars, workshops and one on one training. The old adage "I wish I knew 20 years ago what I know now" rings true for most. Imagine where he can come in and share so many golden sales nuggets with members of your sales team so they are much further along sooner in their lives than later. It is often very difficult to assemble a sales team let alone a very effective one. He can help.
The Book
Dan has enjoyed a successful outside sales career for the better part of 27 years. He eats and breathes sales and you can too, with the help of his ideas, suggestions and tips contained in his book – The Magic of Selling: A Treasure Map to Bigger and Better Sales. All of the wisdom bestowed throughout the book is applicable to any sales career. The Magic of Selling is chock full of so many key sales nuggets that if you are just embarking on a sales career, this book could be the conduit that jump starts your career. For the seasoned veteran, it's great to revisit those tried and true sales principles that many take for granted or even abandoned.
Radio
Dan also co-hosted a very entertaining and informative interview driven radio program dedicated to Pop Culture and Nostalgia known as Time Travel Radio. The program focused on folks in film, television, animation, music, comicdom and similar pop culture topics.
To contact Dan, you can email him at: dan(at)themagicofselling(dot)net