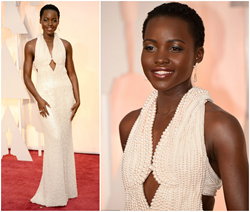 Montreal, Quebec (PRWEB) February 27, 2015
As one of the most anticipated events in Hollywood, Oscar night is eventful for recognizing the biggest achievements in cinema while also allowing viewers to rejoice in glamorous outfits worn by influential A-listers. This year, the red carpet abounded with famous beauties draped in accouterment both elegant and dainty and adorned in unique statement jewelry.
Many celebrities opted for blush and cream coloured dresses with eye-catching embellishments such as Jennifer Lopez' blush gown, which was perfectly offset by its plunging neckline, voluminous skirt and luxurious pearl beading. Actress Viola Davis, on the other hand, opted for a minimalist off-shoulder soft pink gown but wisely balanced it with a regal Van Cleef & Arpels pearl bib necklace.
Actress Lupita Nyong'o made waves following her appearance in a Calvin Klein halter gown embellished with 6,000 pearls. Creative Director at Calvin Klein Collection, Francisco Costa envisioned Nyong'o's dress to exude luxury and warmth, which was achieved by "creating a series of textures with intricate placements of a variety of different-sized pearls" and to compliment these textures with the "metallic tulle and silk lamé of the dress." Academy Award nominee, Felicity Jones, graced the red carpet in an Alexander McQueen gown that also prominently featured pearls. White pearls of various sizes were intricately encrusted onto 3D flower appliqués throughout the bodice of her pastel grey gown.
"As a company specialising in pearl jewelry, we couldn't be happier to see pearls emerge in red carpet fashion in so many original ways by so many influential people. Seeing designers incorporate pearls on their dresses and spotting them in striking jewelry pieces illustrates how much this gem has infiltrated the styling of the Oscars' fashion arena for this year" says Vanessa Lombardi, Brand Manager for Nishi Pearls.
While last year's red carpet glittered mostly with diamonds and classic designs, this year's stars displayed statement pieces characterized by colourful gemstones and bold designs. Emeralds, turquoise, rubellite and sapphires were spotted in eye-catching necklaces and earrings to add just the right amount of colour to these classic, neutral-toned gowns. President of the Academy of Motion Picture Arts and Sciences, Cheryl Boone Isaacs for instance, adorned her ears with a striking pair of earrings set with sapphires, diamonds and pearls.
The widespread appearance of pearls at the Oscars echoes what Nishi Pearls has always promoted: that "pearls possess an inherent natural beauty that is highly adaptable" according to Lombardi. "Spotted in street wear as much in prestigious events like the Academy Awards, pearls are here to stay."
Nishi Pearls™ is a brand that specializes in designing and creating a wide range of genuine cultured pearl jewelry that creates the perfect marriage between classic and contemporary. With offices located in Asia, Canada and the U.S.A, Nishi Pearls has been making its mark at some of the most prominent international jewelry fairs including the Jewelers International Showcase, the Orlando Duty Free Show of the Americas and the Jewelers' Circular Keystone's (JCK) annual trade show in Las Vegas, to name a few.
Nishi Pearls' dedication to quality is reflected in its partnerships with leading professionals, including their latest co-branding endeavor with Swarovski as well as Air Canada's Inflight program. Their award-winning jewelry is inspired by the consumer of today and the fashion of tomorrow.
Visit them at: http://www.nishipearls.com/online/