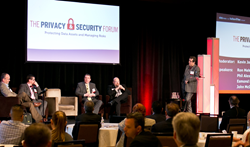 Leading organizations share best practices and cutting-edge approaches to data security.
Portland, ME (PRWEB) February 26, 2015
On the heels of extensive national data breaches, the San Diego Privacy and Security Forum opens on March 5, 2015, at the Manchester Grand Hyatt Hotel. Hosted by Healthcare IT News and HIMSS Media, the forum pulls together healthcare providers from leading organizations to share best practices and cutting-edge approaches to data security.
When: March 5-6, 2015
Where: Manchester Grand Hyatt, San Diego, Calif.
Who's Attending: Healthcare IT professionals working to safeguard their organizations' data assets – CFOs, CIOs, CISOs, CMIOs, CSOs and directors/managers of IT security.
Interview Opportunities:

Keynote Speaker: Karl J. West, CISO, Intermountain Healthcare
Featured Speakers:
John E. Mattison, CMIO, Kaiser Permanente
Who Owns your Avatar and why should you care? Achieving Reciprocity of Transparency in the Digital Age

Kevin McDonald, Director of Clinical Information Security, Mayo Clinic
Security Roundtable: Top Initiatives, Insights, and Concerns for 2015

Deborah Kobza, Executive Director/CEO, NH-ISAC
Emerging and Current Cyber Threats

Daniel Nigrin, Chief Information Officer, Boston Children's Hospital
Lessons Learned from Boston's Childrens: When Hacktivists Attack Your Hospital
For registration information, and to find out more: sandiego.healthprivacyforum.com
About Healthcare IT News
Healthcare IT News is the industry's leading news source, providing healthcare IT and other executives the information they need to implement and harness technology as a means to enhance patient care. Award-winning coverage includes clinical and business IT strategies, regulatory updates and vendor and provider news. Engaged readers access content online and in print, as well as through mobile and social media platforms.
About HIMSS Media
HIMSS Media produces and distributes essential information to help advance better health through information technology (IT). More than 500,000 leading influencers, medical professionals, policy makers and technology buyers around the world rely on our media, events, data and training materials to evaluate and implement effective improvements in patient care. With global scale and local expertise, HIMSS Media offers innovative and measurable solutions for health and healthcare technology marketers.