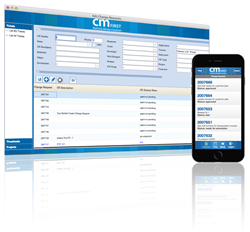 "Exploiting the power of CM WebClient to enhance CM MatchPoint highlights the value of this solution to customers," said John Rhodes, CTO.
Austin, TX (PRWEB) February 27, 2015
Application support personnel increasingly manage far-flung systems across many time zones and 7x24 availability is simply expected. It isn't realistic to expect that employees can be at a desk in the datacenter when a change must be implemented and managed. In fact, companies can't be sure that key personnel will be near a secure desktop or laptop when needed. An application lifecycle management solution must be able to support the BYOD 'bring your own device' culture. Web and mobile-enablement is no longer a nice-to-have. For many companies, access to key software systems by any device, anywhere in the world is a critical requirement.
Few application lifecycle management solutions offer end-to-end governance of software change processes along with the ability to manage change from any device. CM First's flagship change management product, CM MatchPoint ALM, is a cross-platform Application Lifecycle Management solution providing comprehensive software change management. With the latest release, CM MatchPoint ALM now adds web and mobile capabilities to its intuitive, flexible solution. CM MatchPoint ALM provides IBM i and CA Plex environments with robust change governance across the enterprise from any device, anywhere. All features are available on a PC, and essential features are provided on web, tablet or phone. Developed with CM WebClient and CA Plex, the same easy web and mobile access seen with CM WebClient is now extended to CM MatchPoint ALM. The solution is the most powerful ALM product for CA Plex available. To get more information, go to: http://www.cmfirstgroup.com/products/cm-matchpoint-alm/
Download a demonstration version of the app from iTunes at http://itunes.com - look for 'Mobile MP' or the Android store https://play.google.com/store/apps/details?id=com.cmfirstgroup.matchpointmobile. CM MatchPoint customers can filter, find and manage changes as well as manage timesheet functions. Additional information can be found on the Support site at: http://support.cmfirstgroup.com/hc/en-us/categories/200193920-CM-MatchPoint
The modern change management discipline requires quick and accurate responses. CM First MatchPoint ALM provides the solution companies require accessible by the devices technical personnel prefer. To learn more, contact CM First at infotech(at)cmfirstgroup(dot)com
About CM First Group
CM First is a global software and services company with focus on application modernization, custom development of enterprise applications that support high-performing, and agile development teams in three key areas: Application Modernization for IBM Environments, Custom Application Development Architected and Agile, Tools and Technology for Future Development.
Contacts
Europe Headquarters
+41 41 508 01 05
info(at)cmfirstgroup(dot)com
North America Headquarters
+1-512-418-9802
infotech(at)cmfirstgroup(dot)com
France
+33 608 504 285
infofrance(at)cmfirstgroup(dot)com