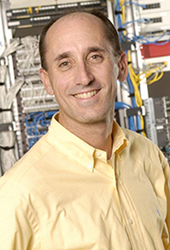 "Pete's many years of experience in the IT industry makes him uniquely qualified to drive strategic prioritization and accountability, with a laser-focus on service delivery and operational excellence." Robert Hogg, Managing Partner
Mount Laurel, New Jersey (PRWEB) February 27, 2015
Ancero, Communications Solution Provider, is proud to introduce the addition of Peter M. Cava Jr. as the Director of Operations. http://www.ancero.com
In his new role, Mr. Cava is directly responsible for identifying, implementing and ensuring the effectiveness of best practice programs throughout the company in response to the company's ongoing transformation to one of the regions premier Communications Solution Providers or CSP.
Ancero's Communications Solution Provider platform is a strategic paradigm shift that requires the process engineering review of all functional areas within the business in order to provide customers the best hosted communications and managed services solutions possible. Ensuring that Ancero clients experience operational efficiencies, elicit greater value from their IT investments, and successfully leverage technology to achieve greater competitive advantage.
"Pete is a seasoned and trusted leader who has a history of delivering high end results. His many years of experience in the IT industry makes him uniquely qualified to drive strategic prioritization and accountability within Ancero, with a laser-focus on service delivery and operational excellence," said Robert Hogg, Managing Partner of Ancero. "I have tremendous confidence in Pete's ability to align Ancero's products and services with industry-leading operational practices to drive and extend the next-generation of Ancero's market leadership."
Mr. Cava is a graduate of Drexel University with a B.S. in Electrical Engineering. He co-founded SNiP Telecommunications in 1998 and operated the company as its President and CEO from start-up to successful sale in 2010. The company was a facilities-based telephone and Internet company serving the Philly Metro, Delaware and New Jersey markets providing communications services to both residential and business customers. Before founding SNiP, Cava was Director of Technical Programs at Formation, Inc. (now Honeywell Aerospace) where he developed high performance hardware and software systems for the telecommunications, radar communications and large storage markets. His extensive career in the technology and telecommunications industries uniquely qualifies Mr. Cava to position Ancero as the premier CSP in the region.
Ancero is a Communications Solution Provider offering a wide range of integration, managed services, VoIP, cloud services and networking solutions. Utilizing more than 20 years of industry experience, Ancero provides the expertise necessary to incorporate the capabilities of diverse and emerging technologies to deliver strategic solutions that ensure operational excellence. We are a dedicated team responsive to our customer's unique and changing needs, providing a differentiated experience while enhancing the value of their technology investment. Watch our new video 'Why Use Ancero for VoIP'