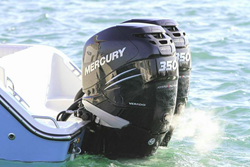 "It's a new benchmark," said Skip Braver, President, Cigarette Boats.
Fond du Lac, Wisconsin (PRWEB) February 26, 2015
In the wake of a successful Miami boat show, Mercury Marine has released a new video showcasing its customers and dealers talking about the new engine launch. Mercury had cameras out on the water throughout the entire boat show, capturing video and testimonials about their new offerings.
Mercury launched four new engines in Miami; the Verado® 350hp outboard, Mercury Racing Verado 400R outboard, Mercury Racing QC4v 1550 sterndrive and Mercury 4.5-liter 200hp sterndrive.
The Verado 350 is the most powerful engine in Mercury's class-leading Verado family of four- and six-cylinder supercharged FourStroke outboards, ranging from 175hp to 350hp. Built on Mercury's proven supercharged inline six-cylinder Verado outboard engine, the Verado 350 delivers unsurpassed speed and overall performance without sacrificing durability and cruise fuel economy.
The highly efficient Verado 350, which operates on 89 octane gas with 91 octane recommended for full performance, provides up to 10% greater fuel economy than competitive outboards, which translates into 100 miles or more in additional range per fill-up and hundreds of dollars saved at the pump each year. Weighing just 668 pounds, Verado 350 is 95 pounds lighter than the nearest four-stroke competitor. True to the Verado brand, the new 350 provides class-leading performance. This engine has superior torque across the operating range, creating rocket like hole shot and faster top-end speed.