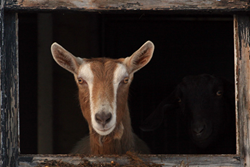 The goat milk is what makes our soaps exceptional
Elizabethton, TN (PRWEB) March 02, 2015
Hard work and sacrifice paid off for local small business Free Reign Farm, maker of goat milk soaps, natural lotions, and herbal salves. The family's story of sacrifice and dedication to make their business successful made them a winner in the American Small Business Championship.
The American Small Business Championship is a nationwide competition hosted by SCORE and sponsored by Sam's Club to support small businesses with outstanding stories of sacrifice. Free Reign Farm's story of sacrifice was inspiring to both judges and the local community who cast their votes for the company.
"We are so proud of the accomplishments of the small businesses chosen as our American Small Business Champions," said SCORE CEO Ken Yancey. "They are true representatives of the American dream and the hard work, determination and sacrifice it takes to achieve small business success. We are honored to reward that work."
Free Reign Farm was founded by wife and mother, Bethany Banks, who sought to make natural alternatives to store-bought cosmetics for her family. The results were products that appeal to a wide audience of health conscious moms and those with sensitive and dry skin.
The number one ingredient in the company's soaps is goat milk, which brings a long line of moisturizing benefits to the mix. "Milking goats is a full time job" said Bethany, who milks goats every 12 hours most of the year to provide fresh goat milk for their soaps. "The goat milk is what makes our soaps exceptional."
While milking goats is a full time job, it's just part of the story of sacrifice that helped the family win the American Small Business Championship. The company hopes to expand its offerings this year to include other natural, farm based products and is excited about the help it will receive from the SCORE business mentoring program in addition to a $1000 Sam's Club Gift Card they were awarded as part of the American Small Business Championship.
For more information on Free Reign Farm check out http://www.FreeReignFarm.com or to read their story click here.