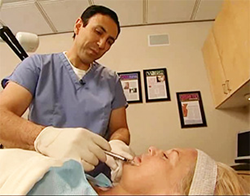 Los Angeles, CA (PRWEB) February 27, 2015
On February 24 2015, Harper's Bazaar Magazine posted an online article titled "The Real Liquid Botox," that details the development of RT001, a form of topical botulinum toxin type A that is working its way through FDA trials. For those afraid of needles, the idea of a topical Botox cream is very attractive. Of course, if the drug ultimately gets FDA approval it will be available only by prescription at a physician's office. (see: goo.gl/PQvQwk)
"As the article notes, the size of the Botox molecule has slowed the development of an effective topical delivery system," says Dr. Simon Ourian, Medical Director of Epione Beverly Hills. "We're still a long way from having this product available for use on patients."
According to the Harper's Bazaar Magazine article, the Botox molecule is too big to penetrate the skin so the key to an effective topical cream is the peptide delivery system. Delivery of the Botox through the skin is not instant; the gel must be left on the skin for 30 minutes. According to one study, 89 percent of patients reported good results and no major side effects.
"If this delivery technology is effective for Botox, it can likely be used for many other antiaging ingredients," says Dr. Ourian. "I look forward to seeing the results of the FDA trials."
Dr. Ourian has been a pioneer in laser technology and non-invasive aesthetic procedures including Restylane, Juvéderm, Radiesse, Sculptra, and CoolSculpting. These treatments are used for the correction or reversal of a variety of conditions such as acne, acne scars, skin discoloration, wrinkles, unwanted fat, stretch marks, varicose veins, cellulite, and others. More information about Botox can be found on Epione's website.