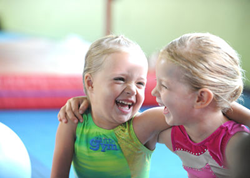 Scottsdale, Arizona (PRWEB) February 28, 2015
Friendships provide children with so much more than just fun playmates! In fact, good friends are essential for good health. According to The Mayo Clinic, the ability to make and maintain friendships helps encourage a healthy lifestyle, increases happiness, self-esteem, and self-confidence!
At The Little Gym, the programs offered are purposefully designed to help all children become, "Citizen Kids!" by working to improve their social and emotional development. Songs, games and activities focus on "Citizen Kid" qualities like listening, sharing, and taking turns. And experiential learning activities help foster creativity, allow friends to solve problems together, and let them pass on knowledge to one another.
As a parent, whats the best way to encourage socialization and friendship? Get your child involved in activities outside of the home like The Little Gym! Exposing children to different situations and activities will encourage socialization. Talk to children about friends, approach this topic by simply asking, "Who did you play with today?" Just as a child grows day by day, inch by inch, their friendships will grow too!