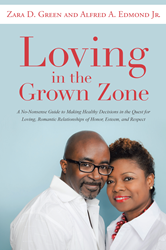 Teaching the difference between adult choices—what we have the right to do—and Grown decisions—that which is in our best interest to do—is the mission of the Grown Zone.
NEW YORK (PRWEB) March 02, 2015
Are you simply an adult, or have you moved into the Grown Zone? In a no-nonsense guide to healthy decision-making and romantic relationships, "Loving in the Grown Zone" by Zara D. Green and Alfred A. Edmond, Jr. calls for men and women to set aside destructive behaviors and misguided advice and progress beyond adulthood into the Grown Zone.
In the book's candid and distinctive voice, Green and Edmond take on failed relationships, casual sex, fatherless families and destructive financial habits with tangible solutions based on the Grown Zone principles of self-love, better decisions, and healthier relationships. Distinguishing between "marriage planning" and "wedding planning," the book debunks the myth that family background, religion, and attraction are good predictors of a sustainable relationship.
Edmond, chief content officer and media executive at Black Enterprise, challenges men to become better husbands, lovers and fathers through self-control and taking responsibility in ways that aren't often portrayed in pop culture depictions of masculinity.
"Falling in love with someone does not mean that you surrender your responsibility to protect yourself," said Edmond. "Our goal is to take on some of the poor decision-making, misguided advice, unproductive beliefs, and yes, ratchet behavior, that seem increasingly accepted and even celebrated in popular culture, despite the human destruction left in its wake."
Through her PooNannie Principles™ and public speaking tours, Green teaches women to accept nothing less than relationships of H.E.R. ™—Honor, Esteem and Respect—in order to secure happy and fulfilled lives.
"'Living in the Grown Zone' is about recognizing that adulthood is not the final stage of personal growth, and that your past is merely the floor—not the ceiling—on the potential of your life," said Green.
Green and Edmond will launch the book with a blog tour and celebrity-hosted #GrownZone Twitter party on March 10 from 1:00 – 2:00 p.m. EST. For more information, visit http://www.lovinginthegrownzone.com or connect with the #GrownZone on Twitter, Facebook and Instagram.
Loving in the Grown Zone
By Zara D. Green and Alfred A. Edmond, Jr.
ISBN: 978-1-45259-753-9
Available in hardbound, paperback and e-book
Available on Amazon, Barnes & Noble and Balboa Press
About the authors
Together, Zara D. Green and Alfred A. Edmond, Jr. are co-principals of A2Z Personal Growth Enterprises and jointly lead sessions on personal growth, self-love, resiliency, healthy relationships and "grown" decision-making through social media and live events across the country. Much of their advice stems from two failed marriages each and observations of destructive patterns in society around them.
A native of New Orleans, Zara D. Green is an author, speaker and trainer specializing in personal growth, resiliency development and individuality advocacy. Green is a former broadcast journalist and has garnered a passionate and vocal following on helping women to proactively make H.E.R. ™—Honor, Esteem and Respect—a non-negotiable priority in order to secure happy and fulfilled lives. Green was featured for her personal development expertise in The Biography Channel's feature on Ted Williams, the "man with the golden voice" pulled from homelessness into a national media feeding frenzy via YouTube. Green can be found online at https://twitter.com/ZaraGreen.
Alfred A. Edmond Jr., is best known as an award-winning journalist, editor and media executive with Black Enterprise magazine and host of the nationally syndicated radio feature Money Matters for American Urban Radio Networks. Edmond is a widely recognized expert on personal finance, entrepreneurship, mentorship, leadership development and the practical application of faith in daily living. He appears regularly on television and nationally syndicated radio, including serving as a commentator on PBS' Nightly Business Report; weekly contributor on The Doug Banks Show radio program; and guest expert on MSNBC's Your Business and CNN. A highly sought-after public speaker, Edmond is also known for his A Grown Man Knows™ content on the values and behaviors of responsible, life-affirming manhood, which has garnered enthusiastic appreciation on social media platforms including Twitter and Facebook.
# # #
For review copies or interview requests, contact:
Mandy Bray
317-275-2062
mbray(at)bohlsengroup(dot)com
When requesting review copies, please send a shipping address