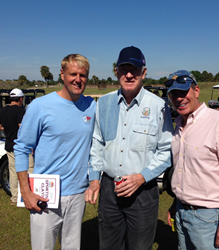 Fort Lauderdale, Florida (PRWEB) February 26, 2015
The 17th Annual Boy Scouts Sporting Clays Invitational was held on January 30th, 2015. The event was held at the South Florida Shooting Club, in Palm City Florida. Chris Havlicek, along with his father, John Havlicek and friend Greg Walker participated in the event.
With about 300 local councils, Boy Scouts of America is active and involved in virtually every community in America, and even some overseas. Each year the Gulf Stream Council must raise approximately $100 per Scout in order to stay in operation. The Boy Scouts Sporting Clays Invitational is a unique opportunity to help support this cause. This annual event gives the chance to support over 8,900 of these youth members belonging to Tiger Cubs, Cub Scouts, Boy Scouts, Sea Scouts, Exploring, Venturing, and Learning Life Programs. Over 3,000 volunteers have provided their time and efforts to prepare for this event serving over 294 Packs in the seven county areas this event serves. The annual Sporting Clays Invitational event included breakfast, a safety briefing, the shotgun start, lunch and the awards ceremony.
Generous sponsorship is vital to putting on this event, and without it the Boy Scouts Sporting Clay Invitational would not be possible. The funds raised from the event supported the Scouting program as well as provided financial assistance to youth members to be able to participate. Not only does donating to this cause help to directly support the many local Scout groups, but funds raised also support programs such as park clean ups, food drives for the needy and disaster prevention. Sponsors were asked to donate anywhere from $500 to over $25,000 for the Sporting Clays Invitational specifically. All sponsorship packages included a souvenir gift, a team photo, ammo, and clays. Sponsors were encouraged to bring their friends and family members to join them in the events.
To learn more about Chris Havlicek's community involvement click here.