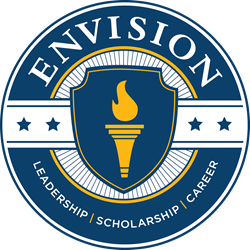 Every year we enrich our program curricula by incorporating new and more progressive learning tools
Washington , DC (PRWEB) February 27, 2015
The National Youth Leadership Forum (NYLF): Engineering & Technology, an Envision program (http://www.envisionexperience.com/tech), is excited to announce that it will be rolling out the VEX Robotics platform to its program locations at the University of California Berkeley, Georgia Tech and the Franklin W. Olin College of Engineering this summer.
Envision selected the VEX Robotics platform because it provides rich engineering content at a high school-appropriate level and enables students to explore a variety of STEM and engineering fields through design, programming, building and testing.
"Every year we enrich our program curricula by incorporating new and more progressive learning tools," said Lois Bracey-Barnes, Envision's STEM Academy Director. "VEX Robotics offers us the flexibility to design challenges that can be customized to each student's ability, giving them the opportunity to learn advanced robotics concepts at their own pace."
The VEX platform is recognized in high schools and colleges as the premier platform for robotics design competitions, teambuilding challenges and classroom curriculum. Beyond science and engineering principles, the VEX Robotics platform encourages teamwork, leadership and problem-solving among groups – providing Envision's scholars with the hard and soft skills needed for college and career success.
"With accessible, scalable and affordable robotics solutions, VEX Robotics is the perfect way to get students excited about STEM. The innovative construction options offered by VEX Robotics takes the frustration out of building robots and allows students to spend more time focusing on the engineering process." – VEX Robotics.
NYLF Engineering & Technology is an eight-day Envision program developed for high schools students to explore the many disciplines of engineering, while gaining hands-on, immersive experience in the emerging fields of sustainable design, 3-D modeling, robotics and game and web development. The program will take place at three of the top five nationally-ranked engineering schools, over a total of nine sessions in June and July, 2015.
NYLF Engineering & Technology enhances the academic and leadership skills of students, both domestic and international, who gather to:

Gain engineering experience and tangible, real-life skills in a wide variety of hands-on workshops in fields like 3D modeling, gaming/web development and sustainability
Delve into motion, mechanics and the engineering design process in an intensive simulation using the VEX Robotics programming platform
Explore the halls of research and innovation at preeminent universities like MIT, tour the campus of Stanford, or gain "back-stage" access to the laser light show at Stone Mountain
Master the admissions process and learn what it takes to earn acceptance at the nation's most prestigious academies of technical learning
About Envision and NYLF Engineering & Technology
Since 1985, Envision programs have served more than 500,000 students in more than 145 countries, with academic programs designed to help students develop the leadership and career skills needed to succeed in today's competitive college and career landscape. NYLF Engineering & Technology is part of the Envision family of experiential education programs (http://www.envisionexperience.com). For information about the National Youth Leadership Forum: Careers in Engineering & Technology, visit http://www.envisionexperience.com/Tech.