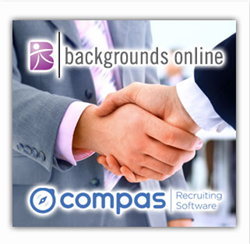 Backgrounds Online's number one focus is servicing our client base...
Sacramento, CA (PRWEB) March 02, 2015
Backgrounds Online, today announced a formal integration with COMPAS recruiting software to further optimize background screening and onboarding procedures for human resources representatives nationwide. This combined effort from both technical teams is an effort to meet a growing demand for HR departments to have a composite solution for managing their staff and assuring the safety of their team via online background screening.
Integrating Backgrounds Online's service-focused background screening offerings with COMPAS' intuitive talent management software was a natural fit between the two organizations. Backgrounds Online has a number of existing clients that utilize COMPAS to manage their onboarding efforts, and now they can enjoy the ease of processing requests for background screening directly from their recruiting software.
"Backgrounds Online's number one focus is servicing our client base, be it a custom tailored solution, industry suggested pre-compiled screening packages, or in this case, integrating with their existing recruiting software. COMPAS has a great product, and like Backgrounds Online, they service businesses of all sizes, we look forward to offering a combined solution to our mutual clients." said Backgrounds Online CEO, Chris Ballas.
About Backgrounds Online
Since 1997, Backgrounds Online has helped businesses of all sizes streamline their employment screening and background check needs through the use of intuitive online services and a friendly, dedicated team of service professionals. Backgrounds Online utilizes a variety of screening solutions, including standard web access, custom web applications, and advanced data integration to service companies of any size, from smaller organizations to Fortune 500 alike. For more information, visit http://www.backgroundsonline.com.
About COMPAS
COMPAS Technology, founded in 2008, develops industry leading SaaS recruiting and talent management software solutions for both the Corporate and Staffing industries. COMPAS Technology is committed to helping professionals within the talent acquisition and management industry recruit and on-board top talent effectively and efficiently. For more information, visit http://web.mycompas.com/.