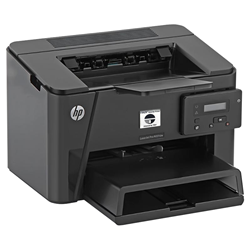 Wheeling, WV (PRWEB) February 26, 2015
TROY Group, Inc., a worldwide leader in the printing and management of security documents, is pleased to announce the release of the latest printer in their low volume series, the TROY m201 MICR Printer.
Perfect for small to medium size businesses with limited desk space, the m201 is the replacement for the TROY MICR 1606 Printer. It is ideal for businesses printing less than 1,000 checks a month and for low-volume applications, where security is not a priority, but mobility is a requirement.
The smallest footprint and lightest weight MICR laser printer available, the m201 serves as an affordable method of managing the check printing needs of your small or home office, as well as being perfect for general office printing.
Offering the capability to print up to 26 pages per minute, with recommended volumes between 250 and 2000 pages per month, the m201 also comes complete with a full Standard Yield MICR Toner Cartridge. The Standard Yield MICR Toner Cartridge provides the opportunity to print an estimated yield of 1,500 pages. New with the m201, a High Yield Cartridge is available and prints an estimated yield of 2,200 pages.
Included with the m201 is the TROY E-13B font, specifically designed by TROY to meet worldwide banking standards when used with the TROY m201 MICR printer and TROY MICR toner secure cartridge. The TROY MICR toner secure cartridge provides the TROY Quality Guarantee and does NOT void the manufacturer's warranty.
Larry Landtiser, Executive Vice President, and General Manager at TROY Group, Inc. discussed the newest addition to the low volume series. "The m201 is the perfect solution for companies who print smaller check runs and don't need to spend the extra money outsourcing these services. Thanks to the m201, they can do it in house, affordably and accurately printing MICR lines with the added security of MICR toner secure."
To learn more about the TROY m201 MICR Printer, contact a representative via telephone at 304-232-0899, e-mail securesolutions(at)troygroup(dot)com or visit http://www.troygroup.com.
About TROY Group, Inc.
TROY Group, Inc. ("TROY") is a worldwide leader of secure on-demand printing solutions. TROY solutions manage, secure, and simplify end-to-end enterprise printing environments. TROY offers application software, security printing hardware and specialized consumables for securely printing checks, money orders, transcripts, prescriptions and other important documents. TROY solutions are used by small and medium size businesses as well as large enterprises and governmental organizations to manage fraud, operational risk and comply with government regulations related to protecting information privacy. As a Platinum Solutions Partner to HP, TROY is the only company in the world authorized by HP to enhance HP printers and consumables for use in secure printing workflows. Only TROY MICR and Security printers and HP compatible MICR Toner cartridges are certified by HP for quality and reliability. We sell and service our products to major corporations, banks, key government accounts, and distributors worldwide. Visit TROY at http://www.troygroup.com