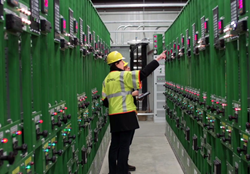 "Engaging new employees and giving them a sense of PSE&G's culture from Day One was paramount to our vision," says Tribe Pictures CEO Vern Oakley.
Chatham, NJ (PRWEB) February 27, 2015
PSEG teamed with Tribe Pictures to create a series of onboarding videos that welcome new employees to the energy company's Delivery Projects and Construction (DP&C) Group. The films communicate that DP&C -- responsible for building and maintaining the company's major transmission infrastructure -- is a great place to build a career, be part of an exciting and growing organization and make a real difference. The goal of the films is to make new employees feel they've made the right choice and that the organization is excited they've joined the team.
The films also explain how DP&C is a crucial part of the larger PSE&G organization and their commitment to providing safe, clean energy to millions of customers.
Tribe interviewed a range of executives, managers, and employees to demonstrate the dynamic group and its exciting mission. In a fast-paced documentary style, the films combine short, unscripted comments with scenes of employees in action with brief segments of voice-over narration.
Tribe worked with DP&C's team to arrange an extensive casting process to ensure a diverse range of employees who best embodied the PSE&G spirit were included in the films. The multi-day shoot across several work sites and PSE&G offices captured the essence of what it would be like to work for such a well-respected, fast-moving and vibrant company.
"The DP&C Onboarding & Recruitment videos captured the spirit of DP&C's 'can do' culture," said Kim Hanemann, Senior Vice President of DP&C. "It also highlighted our commitment to working safely to improve the resiliency of PSE&G's transmission network and provide our customers with highly reliable electric service."
Based on similar work Tribe has done for clients like Hess Corp., KPMG, American Express and Stanley Black & Decker, Tribe's Chief Storyteller and CEO, Vern Oakley, instantly knew what the film needed to achieve. "Engaging new employees and giving them a sense of PSEG culture from Day One was paramount to our vision," he said.
The film was recently honored with a Golden Eagle from the CINE (Council on International Non-theatrical Events), an organization that honors and champions the creators of exceptional media content.
Public Service Electric and Gas Company (PSE&G) is New Jersey's oldest and largest regulated gas and electric delivery utility, serving nearly three-quarters of the state's population. PSE&G is the winner of the ReliabilityOne Award for superior electric system reliability. PSE&G is a subsidiary of Public Service Enterprise Group Incorporated (PSEG) (NYSE:PEG), a diversified energy company. More information about PSEG is available at http://www.pseg.com.
Tribe Pictures (http://www.tribepictures.com) is an award winning global communications film company based in Chatham, New Jersey that specializes in strategic video and film solutions for Fortune 500 corporations and leading colleges, universities and non-profits. With a mission of "humanizing the most successful companies in the world," Tribe has created compelling content for such household names as American Express, CIT, Coty, Hamilton College, Hess, Kenyon College, KPMG, Montefiore Medical Center, Stanley Black & Decker, Tyco and others. The company brings subject-matter and storytelling expertise to areas such as culture change, human resources and investor relations, and is known for its work with corporate CEOs. Founded by CEO Vern Oakley, Tribe's work has been recognized with Telly Awards, CINE Golden Eagles, Aurora Awards, CASE Awards and many other industry accolades.