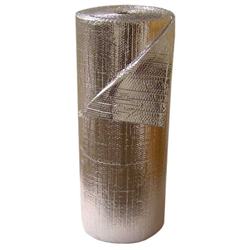 Urbana, IA (PRWEB) February 27, 2015
EcoFoil, a leading manufacturer of reflective insulation products, will soon be offering three new sizes of its best-selling bubble foil insulation.
The 125' roll lengths will be available in three new widths: 4", 12", and 20", to tap into the increasing numbers of DIY customers discovering the benefits of using eco-friendly building products.
Two of the new sizes (4" and 20") will feature the company's popular Double Bubble design which features 99.9% pure aluminum radiant barrier bonded to two layers of polyethylene bubbles, for a heavy duty, yet lightweight and tear-resistant product.
The 12" width is a single white bubble insulation, with a layer of polyethylene bubbles surrounded by a layer of radiant barrier on one side and a polyethylene sheet on the other for a cleaner appearance.
Single and double bubble insulation both function in the same way. They both utilize the principles of air space and radiant barrier to stop heat transfer from one surface to another. They are also both equally effective at achieving a 100% Class 1 vapor barrier.
Sales Specialist Barb Rawson says that in addition to the growing number of pre-cut sizes available, customers can also request custom-cut lengths.
"We always encourage customers to call us if they need a special size of our bubble insulation or radiant barrier insulation products; we'll do our best to get them what they need for the most cost-efficient option," said Rawson.
EcoFoil can be purchased online at EcoFoil.com and by calling 888-349-3645, where expert sales professionals can help guide customers through the process of choosing the right products for their needs. The company's EcoFoil YouTube channel also features videos highlighting the products and benefits of EcoFoil, as well as how to choose the right insulation for specific uses.
###
About EcoFoil
EcoFoil is a leading supplier of radiant barrier and foil bubble insulation. Products are manufactured in the USA and Canada exclusively - we do not sell radiant barrier product imported from Asia. EcoFoil is a division of Clickstop, Inc., located in Urbana, Iowa. Clickstop was founded in 2005 as a manufacturer's representative and distributor of building materials to customers in the Midwest. The company expanded to develop an e-commerce business and now sells EcoFoil direct to customers in all 50 states and internationally through our website, EcoFoil.com. Clickstop has earned an A+ Rating from the Iowa division of the Better Business Bureau. For more information, visit EcoFoil.com.