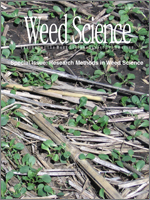 This collection of articles brings together recognized experts to examine a variety of topics, provide reviews, and discuss strengths and weaknesses
(PRWEB) February 27, 2015
Weed Science—Weeds are estimated to cause more than $100 billion in global economic losses each year, and worldwide herbicide sales are approximately $25 billion annually. Cost-effective and sustainable weed management practices are needed. The science behind these solutions must employ research methods that provide the best approaches within the weed science discipline.
A special issue of the journal Weed Science devotes over 200 pages to explaining and evaluating research methods in weed science. While science has become more complex, a comprehensive manual of research methods in weed science has not been published in almost 30 years. This special issue seeks to offer a consolidated reference with updated protocols for designing and conducting weed science experiments and analyzing research data.
This collection of articles brings together recognized experts to examine a variety of topics, provide reviews, and discuss strengths and weaknesses. The issue leads off with an examination of crop–weed competition studies. Valuable information can be gained about the timing of weed control, crop rotation, seeding rates, row spacing, and other components of a cropping system. The article offers designs for plant placement and treatment during study that will assist with the goals of a particular focus of research.
Herbicide modes of action have received limited attention in recent years with the last comprehensive publication written nearly 20 years ago. In this issue, herbicide mode of action and resistance is studied through the targeted enzymes and proteins of the plants. In addition, experimental methods are offered for gene flow study, discussing the hierarchy of data gathering and analysis. Gene flow study could help predict future distribution of resistance traits and provide insight into rates of hybridization.
One article aims to serve as an introduction to needed information for researchers to investigate herbicide resistance at the DNA level, while another presents methods of confirming a plant's resistance to herbicides. Herbicide degradation in soil under both field and laboratory conditions is discussed, offering guidance on intervals of sample collection, soil sample depths, and chemical concentration analysis. The role of radioisotopes in the absorption and translocation of herbicides in plants is the focus of another article.
On a broader scale, estimating and understanding weed diversity, distribution, and abundance within an agro-ecosystem are discussed. Vapor drift is also examined, offering methods to recreate and measure the effect of herbicides drifting off target and creating injury to other plants.
Full articles in the Special Issue: Research Methods in Weed Science, Weed Science, Vol. 63, Special Issue, 2015, are available at http://wssajournals.org/toc/wees/63/sp1
###
About Weed Science
Weed Science is a journal of the Weed Science Society of America, a non-profit professional society that promotes research, education, and extension outreach activities related to weeds; provides science-based information to the public and policy makers; and fosters awareness of weeds and their impacts on managed and natural ecosystems. For more information, visit http://www.wssa.net/.