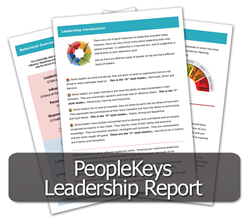 It's your personality type that determines whether you're a risk taking, an encouraging, inspirational, or strategic leader. With The Leadership Report, we want you to understand that whatever your leadership style, you have something important to offer
Boardman, Ohio (PRWEB) February 28, 2015
How would you describe your leadership style? Bold? Motivational? Supportive? Strategic?
There are all kinds of different leaders, each with their own unique strengths. To raise awareness of the advantages and applications of different leadership styles, Ohio-based behavioral analysis firm PeopleKeys is launching a new product this spring called The Leadership Report that will help clients better understand the connection between personality type, leadership, and success. The Leadership Report will focus on how to identify and appreciate an individual's leadership skills, how to tap into hidden leadership talents, and how to adjust individual leadership styles to best meet the needs of others.
The Leadership Report will begin with a brief DISC personality test. Using the results of the personality test, a detailed personality report will be generated for the user that explores the connection between their individual personality type and leadership style. The report will also include:

A behavioral overview, including goals, influences, and motivations
Personality characteristics
Leadership characteristics
Behavioral tendencies
Leadership strengths
Leadership limitations
Motivational triggers
Leadership communication style
DISC personality graphs
Tips on interacting with other personality styles
In addition, The Leadership Report will also include a section called "PowerDISC." PowerDISC will show the level of ability that an individual possesses in 7 key areas: Relating, Processing, Influencing, Directing, Persisting, Detailing, and Creating. The PowerDISC personality snapshot will also offer an intensity ranking for each area, letting test-takers see exactly where their strengths and limitations lie, and to gauge the degree to which they will be successful with a variety of leadership tactics.
When asked about The Leadership Report, PeopleKeys master DISC coach John Schindell said, "Personality type has a huge influence on almost every aspect of life; everything from the career path you choose to the dynamics you create in your personal relationships are connected to personality. Personality type and leadership style are also very closely related. It's your personality type that determines whether you're a risk taker, an encourager, inspirational, or strategic. With The Leadership Report, we want you to understand that whatever your leadership style, you have something important to offer."
Schindell continued, "The Leadership Report isn't just about recognizing your strengths, either. There will be times when you need to make adjustments to your leadership style. Recognizing those situations and being conscious of how to move forward is a hallmark of a great leader. In the end, what we want people to take away from The Leadership Report is that everyone has innate skills and natural limitations. The key is in finding a way to nurture your talents, better communicate and connect with others, and to adapt and grow. Great leaders aren't born—they're made."
The Leadership Report is available now. Look for it at peoplekeys.com.
About PeopleKeys
PeopleKeys has been providing tools to measure the connection between personality and human behavior for over 30 years. PeopleKeys believes that an understanding of human behavior can be used to create effective leaders, build strong teams, improve relationships, achieve personal goals, and resolve conflict. Their DISC personality tests and behavioral analysis tools have been translated into over a dozen different languages, and are sold around the world. For more information about PeopleKeys and their DISC solutions, please contact Marketing Manager Kaitlyn Miller at 330-599-5580 x113.