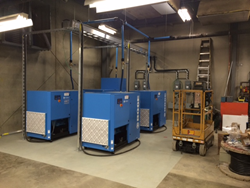 HMI is BOGE's Super Bowl. We're not just showing up with our strongest veteran technology but also showcasing technology that's going to change the face of industrial manufacturing
Powder Springs, GA (PRWEB) March 02, 2015
There is a world where a company such as BOGE America, http://www.boge.com/us, can whisper the words "oil-free piston compressors with maximized free air delivery and minimum energy consumption" and cause quite a stir. The center of that world will be the Hanover fairground in Hanover, Germany, April 13-17 at Hannover Messe International when BOGE America and a group of their North American distributors will be attending the major industrial exhibition.
HMI is the world's largest industrial exhibition and one of the most important events for industrial manufacturers. The exhibition hosts more than 6,500 exhibitors and more than a quarter million visitors. BOGE International and BOGE America plan to unveil some of their latest innovations in their 3,982 sq ft booth at this year's event.
According to BOGE America's General Manager, Scott Woodward, "BOGE is hosting a large booth at this year's Hannover Messe International to showcase some of our latest innovations. We'll be joined by twelve BOGE US distributors . BOGE remains on the cutting edge of compressed air technology and we'll showcase a look into the very near future at this year's exhibition. The key ideas to remember when you think about BOGE at this year's HMI are reduced energy consumption; increased flexibility and cost-effectiveness; and remote diagnostic tools."
The annual exhibition draws manufacturers from around the world who are looking for ways to increase efficiency and positively affect their bottom line. Contingents from the world's major manufacturing companies like China and India often visit only one industrial fair per year: HMI.
"This is BOGE's Super Bowl," says Woodward. "We're not just showing up with our strongest veteran technology. We also showcase technology that's going to change the face of industrial manufacturing."
And about those "oil-free piston compressors with maximized free air delivery and minimum energy consumption" - the new piston compressors have a compact design, are absolutely oil-free, provide the highest degree of reliability, and ensure the simplest possible maintenance. If you want to know more, stop by the BOGE exhibit, Hall 26, Stand B28, at HMI.
About BOGE Compressors
BOGE America is the United States of America Daughter Company of BOGE International GmbH based in Bielefeld, Germany.
BOGE manufactures a comprehensive range of oil lubricated and oil free screw and piston compressors used by all sectors of industry to supply compressed air for a wide range of manufacturing processes. The company also supplies a complementary range of filters, dryers and condensate management equipment. The product is sold and serviced through a dedicated network of over 50 distributors in North and South America.