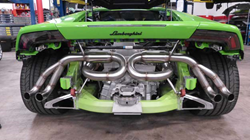 Canoga Park, CA (PRWEB) February 27, 2015
Famous Autosports of Canoga Park CA has just released their first catalog, soon to be online, showing off their new custom carbon fiber parts and custom exhaust systems for the 2015 Lamborghini Huracan.
"2015 is already showing great signs of increase over last year as, as we come to market first again, with a complete replacement engine compartment trim and bonnet side pieces, all in beautiful carbon fiber. These are not overlaid pieces, these are complete replacement parts," notes Mitch Sanders, Founder and the face of Famous Autosports. Other parts the company has also recently released are their Alicante Exhaust for the 2015 Huracan, their exhaust for the Lamborghini Gallardo, and a fire breather of an exhaust for Lamborghini's flagship, Aventador.
"Among other advancements and tremendous growth in 2014," says Sanders, "we have been fortunate enough to be in the right place at the right time in many cases."
"It hasn't all been luck though," says Rick Mark, President and CEO, "Mitch and I started doing some strategic long term business planning several years ago, and its all coming into fruition, much earlier than originally planned. We're all working hard and ramping up very quickly to the demand with several new ace staff members, craftsman and artists in every right, in a very short time."
What started the big push for Famous Autosports? "After many years of operations, and a solid 2014 year in growth, we were able to purchase our own 2015 Lamborghini Huracan. Not only could we show off our talents with customization, but we were the only ones, out of 4 others at SEMA with a Huracan, showing more than just wheels. Building a SEMA car usually takes months and months. With the cars only being released to those who pre-ordered them in late September and early October here, we had our work cut out for us with less than 4 weeks before the show. We already had performance tuning, performance exhaust, custom interior carbon fiber, custom 1-off wheels, and more at the show, installed on the car," says Sanders.
"We're looking forward to a fun and big year in 2015, and hope you can all be a part of it," say Sanders and Mark.
Famous Autosports is a VIP Autoworx, Inc. company. Known industry and worldwide for their work in the Lamborghini brand, they also work on most any exotic car you can find. In fact, Famous Autosports works on many other brands as well, from BMW, Lexus, Mercedes, Jaguar, and others to Ferrari, Maserati, Aston Martin, Audi, and more. Famous Autosports specializes in vehicle personalization. Making your car, well, your car, not the same car every other owner has. They take your car from one of a model, to one of a kind, just the way YOU want it. From custom wheels, carbon fiber, body kits, and custom paint to audio and video, custom detail and expert polishing, paint correction, and just about anything else you can think of ever wanting done to your car. The shop is like going to an exotic museum with many different cars being worked on, on display, or in process of larger projects.