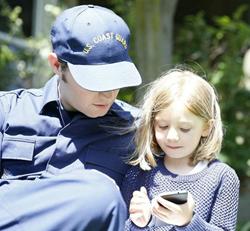 Stamford, CT (PRWEB) February 26, 2015
In light of the potential Department of Homeland Security shut down that would halt pay to active duty Coast Guard and Coast Guard retirees, Defense Mobile has pre-emptively waived next month's mobile service bill for every Member that has served or is currently serving in the United States Coast Guard.
If Congress cannot come to an agreement over funding for the Department of Homeland Security by midnight on Friday, approximately 42,000 active duty members of the Coast Guard and thousands of Coast Guard reservists will work without pay and nearly 34,000 retirees will have their retirement checks suspended.
In the event that this Department of Homeland Security funding lapse occurs, Defense Mobile will continue to waive monthly mobile service fees until funding is restored. With all that these men and women have done and are doing for our country, Defense Mobile hopes this will give these heroes one less thing to worry about.
Defense Mobile will also extend this courtesy to any Coast Guard service member or retiree that signs up for Defense Mobile service during this potential funding lapse. Defense Mobile urges all those eligible to visit https://www.surveymonkey.com/s/HHKMRFL to order a free Defense Mobile SIM card today.
"The men and women of the United States Coast Guard work tirelessly to protect our country every day. This is one small way to show our appreciation," stated Dave Trimble, Head of Member Experience at Defense Mobile. "We at Defense Mobile hope that offering free mobile service to Coast Guard service members and retirees will help relieve some of the financial burden that this potential funding lapse may cause."
About Defense Mobile
Defense Mobile provides mobile service, smartphones and apps designed to improve the lives of Veterans, military service members and their families. Defense Mobile is a new nationwide 4G mobile service supported by Veterans and designed for those who have served. The company offers the most popular smartphones, no annual contract plans, military-and-Veteran only cash back rewards and applications that help Veterans more easily manage the benefits they have earned. Defense Mobile has secured agreements to run on the largest mobile network operators, including AT&T and Sprint, so that Veterans and military families receive superior coverage.
You can learn more about Defense Mobile at http://www.DefenseMobile.com.