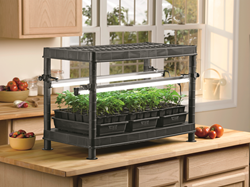 You'll be extending the growing season and bringing the fun of gardening indoors.
Milwaukee, WI (PRWEB) February 26, 2015
Gardeners can get a jump on the growing season this winter by starting favorite or hard to find plants indoors from seeds.
"Starting hard to find plants, like many of the heirloom or newly introduced varieties, from seed may be the only way gardeners will be able to add these to the garden," explains Melinda Myers, gardening expert and host of The Great Courses How to Grow Anything DVD series. "Plus, it's a great way to extend the growing season and bring the fun of gardening indoors."
Myers shared these indoor gardening tips for seed starting success:
All people need is a little space, a few supplies and of course seeds to get started. Check the back of seed packets for planting directions. Most recommend when and how to start seeds indoors as well as any other special care the seedlings will need.
Purchase, recycle or make containers from newspaper. Sanitize used pots by dipping them in a one-part bleach to nine-part water solution and then rinsing them with clean water.
Fill the containers with a sterile well-drained potting mix or seed starting mix. Once the containers are filled, plant the seeds according to the seed packet directions.
For most seeds, plant them twice their diameter deep and gently water. Continue to water often enough to keep the soil slightly moist. Extend the time between watering and increase seed starting success by covering the container with plastic. Or purchase a seed starting kit, like the self-watering Growease seed starter kits (gardeners.com).
Move the containers to a sunny window as soon as the seedlings emerge from the soil. Turn plants often to encourage even growth. Or increase success by growing seedlings under artificial lights. People can make their own light system or purchase tabletop, shelf units or easy to assemble light systems, like Stack-N-Grow. Keep the lights four to six inches above the top of the seedlings for best results. As the seedlings grow, be sure to maintain this distance by simply raising the lights or lowering the containers.
Move overcrowded seedlings to larger containers once they have two sets of true leaves. The first leaves that appear are rather indistinct and are called seed leaves. The next set of leaves look more like the mature plant's leaves and are called true leaves. Once the next set of true leaves forms, it is time to transplant overcrowded seedlings.
Use a fork or spoon to carefully lift out the seedling. Clusters of seedlings can be dug and carefully teased apart before planting in individual pots. Be careful not to pinch and damage the young tender stems.
Place seedlings in their own clean container filled with moist sterile potting mix. Plant the young plants at the same depth they were growing in the original container.
Thin seedlings started in individual containers as needed. If several seeds were planted in each small container, be sure to remove all but the healthiest one. Prune the weaker seedlings to ground level, so the remaining seedling can develop into a strong transplant for the garden.
Continue to grow the plants in a sunny window or under artificial lights and water thoroughly and often enough to keep the soil slightly moist.
Soon it will be time to move these homegrown transplants into the garden.
Gardening expert, TV/radio host, author & columnist Melinda Myers has more than 30 years of horticulture experience and has written over 20 gardening books, including Can't Miss Small Space Gardening and the Midwest Gardener's Handbook.