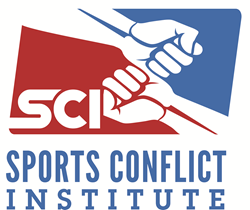 As the sports industry continues to evolve, so too does the need for unique development services that get to the heart of athlete concerns
Portland, OR (PRWEB) February 27, 2015
The Sports Conflict Institute and Game Change Athlete Development Services and Consultancy are teaming up to create more resources and services that benefit athletes and teams from the college ranks to the professional leagues. The partnership will leverage each company's strength in offering independent [research] and neutral assessment, helping teams uncover issues before they become problems and optimizing performance both on and off the field.
SCI and Game Change support leading sport organizations and elite athletes in developing proactive solutions to improve both athletic and non athletic outcomes.
"Partnering with Game Change makes a lot of sense because we both care deeply about creating an environment where athletes can achieve their potential," said SCI Founder Joshua Gordon. "By pooling our expertise we'll be able to help academic institutions and professional teams improve their entire athlete experience and thus optimize performance."
The joint effort will have a particular focus on addressing the needs of major NCAA athletic departments, ensuring that the student athlete experience matches university expectations for academic integrity, athletic achievement, and social development.
"There is a growing need out there for effective, proactive athlete development initiatives that can not only enhance performance but just as critically improve individual athlete outcomes," Game Change Founder Duncan Fletcher said. "Our partnership allows for unique approach that can result in big wins for organizations on and off the playing surface."
Gordon agrees and thinks that even in the hyper competitive sports world most teams are scratching the surface of their potential.
"There is a lot more to reaching peak performance than what happens on the practice field," He says. "Intuitively teams understand this, but often they don't know how to go about getting there."
SCI and Game Change have several joint initiatives underway, and all will focus on giving organizations and teams the resources to help their athletes succeed at the highest level.
"It's definitely an exciting time to be in athlete development. We're excited for what the future holds," Fletcher said.
Read more about SCI and Game Change at:
http://sportsconflict.org/
http://www.gamechange.ca/
About SCI
SCI supports competitive goals in athletics through understanding, preventing, and resolving destructive conflict both inside and outside the lines. SCI serves as a knowledge center and provides a range of services to help ensure student-athlete experience is part of a healthy university culture while optimizing performance on and off the field of play. Conflict is inevitable, but how we respond determines whether success follows or costs mount. SCI Founder Joshua Gordon has over 20 years of conflict management experience.
About Game Change
Game Change was founded in 2011 to serve the athlete development needs of elite and professional athletes and organizations worldwide. Game Change specializes in customized research and assessment services, and the development of highly tailored services, resources and metrics designed to provide long-term positive outcomes for organizations and individual athletes. Game Change, seeking to 'change the world one athlete at a time.'