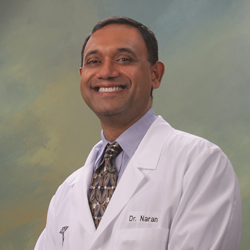 Raleigh, NC (PRWEB) February 26, 2015
Dr. Paresh C. Naran of Naran Family Dentistry is excited to announce that he now offers an advanced treatment to those who struggle with receding gums in Raleigh, NC. This common condition has unfortunately been brushed off by many as unimportant, but left untreated can lead to pain, root decay and tooth loss. Dr. Naran performs a technique called the Pinhole Surgical Technique (PST™), which is minimally invasive and consistently delivers positive results. Following treatment, he educates his patients on the causes of gum recession and works with them to lower the chance of recurrence as much as possible.
Gum recession is sometimes considered an aesthetic problem. While it can be unattractive, the condition causes far more damage than simply marring a smile. With recession, the gums pull back, exposing the roots of the teeth. Tooth roots do not have the protective layer of enamel that covers the crown portions of the teeth, which makes them sensitive to temperature and heightens the risk of decay. The lack of enamel also explains why they naturally appear more yellow, which is one of the biggest aesthetic complaints. Rather than accept the condition and wait for the teeth to have problems, patients can receive treatment for receding gums in Raleigh, NC with Dr. Naran.
Dr. Naran uses PST™, which produces immediate results without any cutting or suturing. He creates a small pin-sized opening in the gums and uses special instruments to work through this area, leaving the gums nearly intact. Dr. Naran gently lifts the affected gums from their inappropriate placement and slides them to where they need to be in order to properly cover the roots. Healing occurs rapidly and the gums reattach with great success.
One important step in treating recession is to prevent its return to the extent possible. After treatment is completed, Dr. Naran works with patients to minimize the chance of recurrence. Most causes of the condition are preventable, such as aggressive brushing and teeth grinding. Anyone who would like additional information about treatment for receding gums in Raleigh, NC is welcome to visit Dr. Naran's website or call his office.
About the Practice
Naran Family Dentistry is a general practice offering personalized dental care for patients in Raleigh, NC. Dr. Paresh Naran and his staff are committed to ensuring each patient has a comfortable experience, through providing high quality, compassionate care. Dr. Naran stays current with the latest advances in technology, and offers the LANAP® protocol for treating gum disease and the Pinhole Surgical Technique™ for repairing receding gums. To learn more about the services available at Naran Family Dentistry please visit their website at http://www.mouthhealer.com or call (919) 851-9690.