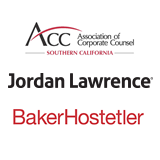 "Companies of all types and sizes are getting serious about cyber hygiene. An important step is developing a records inventory so they know what records they have and identify what they can defensibly get rid of." - Rebecca Perry Jordan Lawrence
St. Louis, MO, March 2, 2015 (PRWEB) March 03, 2015
The data breach headlines of 2014 served as a warning for companies of all types and sizes to get serious about proactively assessing their privacy, data security and information governance risks so they can identify and mitigate potential liabilities and better insulate themselves from a data breach.
Jordan Lawrence, the leading provider of records management and information governance solutions and long-time Association of Corporate Counsel Alliance Partner will present in a CLE event titled Assessing Your Data Security & Privacy Risks. The luncheon and presentation will be hosted by the ACC SoCal Chapter and will take place in Los Angeles on March 11th and again in Costa Mesa on March 12th.
Jordan Lawrence will be joined by Partners from Baker Hostetler's Privacy and Data Protection group to conduct this interactive session and walk ACC SoCal members through a mock risk analysis and subsequent development of a findings and recommendations report to senior management.
The panel includes Alan Friel, CIPP and CIPM, and Tanya Forsheit, CIPP, Partners at Baker Hostetler and Rebecca Perry, CIPP/US/G, Director of Professional Services at Jordan Lawrence.
For more information or to Register for the Los Angeles program.
For more information or to Register for the Costa Mesa program.
For over 27 years, Jordan Lawrence has worked with the world's premier companies to develop and implement records management programs that work. Jordan Lawrence provides proven, fast and affordable services that help any company meet current and ever changing legal and business requirements related to records management and information governance.