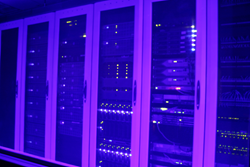 "My goal is to evangelize to customers how automation and orchestration can help agility and operational simplicity within their data centers," said Joel Hart, Practice Director of Security, Automation and SDDC at Corus360.
Atlanta, GA (PRWEB) March 09, 2015
Corus360, an IT Solutions Provider based in Norcross, Ga., adds a Software-Defined Data Center (SDDC) to its technological offerings. The new addition is similar to public cloud offerings and sparks a large shift in data center operations management. Joel Hart spearheads the movement as Corus360's new Practice Director of Security, Automation and SDDC.
Hart comes to Corus360 with 20 years of IT experience along with 15 years of security experience, working with network and perimeter security technologies since 2000. A focus on network, security, automation, virtualization, data center operations, and support shaped Hart's background.
"I have been on the end-user side and the consulting side, so it helps give me a fresh perspective", said Hart. "My goal is to evangelize to customers how automation and orchestration can help agility and operational simplicity within their data centers."
Corus360 President Steve Johnson is thrilled to welcome Hart on board, while Hart is excited to further develop his skillset and work from the overflow of his technological passions.
"Steve and I see this as an exciting time in the evolution of the legacy data center," said Hart.
Hart leverages his background in security by taking on the role of Corus360's lead Security Architect along with evangelist roles around automation and SDDC trends. This enables Hart to advise customers, who have security requirements, on which solutions best fit their needs, as well as additional strategies to ensure a strong security stance.
With an automation background dating back to the early 1990's, Hart's passion for automation helps support some of the aspects that are evolving Data Center operations. His emphasis on the ability to appropriately react to business needs while maintaining control of data center operations correlates with the movement of the legacy Data Center to SDDC.
The SDDC combines the compute, storage, and networking aspects of the legacy Data Center, but adds automation tools, enabling it to be easily provisioned. Software-defined Networks (SDN) are only a portion of what the Software Defined Data Center is comprised. While many public cloud providers and similar offerings provide agility and operational simplicity through automation and orchestration layers, most in-house legacy Data Centers lack these components.
"We are trying to maintain the capital expenditure depreciation schedule while bringing more efficient operations for infrastructure," said Hart.
Cloud architecture appeals to individuals due to its speed, Hart believes. When businesses require a new machines to introduce a new services, applications, and additional compute nodes, a legacy Data Center could take a week to complete the task. With a public cloud infrastructure, however, the new machines, applications, and services can be spun up in approximately 15 minutes. The SDDC movement can enable this type of rapid provisioning within an on-premise Data Center.
A private Data Center delivers greater usage than most cloud providers as well. It is a usage-based revenue cycle for most cloud providers, meaning you pay for resources used and amount of time used, which could become exorbitant. However, in a private Data Center, because they depreciate capital expenditure assets over a long period of time, you can get more value out of equipment than with a pay per usage model if operational models are simplified.
Hart will be managing a small team of developers at Corus360 that will be tasked with creating tools to enable our customers to take advantage of automation to get the ultimate value of new architectures and to retrofit legacy architecture.
About Corus360
Corus360 is a technology consulting and solutions company with more than ten years of success delivering infrastructure solutions, recovery, and consulting services that help organizations reduce costs, increase efficiencies, and maximize productivity. We specialize in best of breed infrastructure solutions, IT management consulting, IT staffing, application development, Data Center technologies, disaster recovery, managed services, and enterprise applications. For more information, visit http://www.corus360.com.