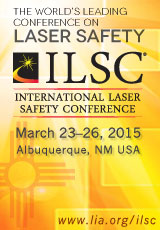 Dozens of cutting-edge presentations will be featured in three primary tracks
Orlando, FL (PRWEB) March 10, 2015
A record number of sponsors and the return of a special-topic luncheon will highlight the latest installment of LIA's intensive four-day International Laser Safety Conference in New Mexico this March.
Chaired by Dr. John O'Hagan, head of Public Health England's Laser and Optical Radiation Dosimetry Group, ILSC 2015 will be held at the Embassy Suites hotel in Albuquerque from March 23-26. Stepping in for past chairman Ben Rockwell due to a professional conflict, O'Hagan notes that, "We have a wide range of topics from the basic bioeffects to very practical offerings."
Following the same format as prior events, dozens of cutting-edge presentations will be featured in three primary tracks: the Laser Safety Scientific Sessions (LSSS) and the Technical and Medical Practical Applications Seminars (TPAS, MPAS). Also scheduled during the week are meetings of various standards committees, bringing together the top minds in the laser safety arena for unequaled networking opportunities.
Noting that 2015 has been declared the International Year of Light, O'Hagan notes, "As we go through the year, we all need to promote the positive aspects of light, including lasers. We hope everyone will get something from the (ILSC) plenary presentations. These will cover a range of issues that we feel will be of interest to all participants. The final plenary sessions should give attendees something to think about before the next ILSC."
Assembling the educational tracks are John Tyrer (LSSS), Tom Lieb (TPAS) and Vangie Dennis and Leslie Pollard (MPAS). All are veteran LIA presenters and participants with decades of experience. The complete advance program can be viewed online now at lia.org/ilsc
Furthermore, the traditional opening-day awards luncheon will honor veteran U.S. laser safety expert Jerome Dennis with the George M. Wilkening award. In addition, the R. James Rockwell Jr. Educational Achievement Award will be conferred upon 2013 LSSS chair Karl Schulmeister, a consultant on laser product safety at Seibersdorf Laboratories in Austria.
Barbara Sams, executive director of the Board of Laser Safety, is excited to have BLS host the Laser Safety Professionals Luncheon on Wednesday. This year's lunch — open to all attendees — is co-sponsored by Laser Compliance and will feature an informative panel discussion on Laser Safety Officer (CLSO® and CMLSO®) certifications.
Sams also notes that LIA has expanded sponsorship of various portions of the ILSC 2015 program so more U.S. military personnel can comply with rules for attending professional events and enjoy the entire conference. Platinum sponsors Rockwell Laser Industries and Honeywell are joined by other industry-leading sponsors including ASC Z136, BEAMSTOP'R Laser Barriers, Inc., ILS Laboratories, Inc., Innovative Optics, Inc., Kentek Corporation, Laser Compliance, Inc., Laser Product Safety, LLC, LASERVISION USA, Laser Safety Systems, Lighting System Design, Inc., NoIR LaserShields, Ophir-Spiricon LLC, RT Technologies, Spica Technologies, Inc., TASC Inc. and The Boeing Company.
To learn more about ILSC 2015 and to register, visit http://www.lia.org/ilsc.
About LIA
The Laser Institute of America (LIA) is the professional society for laser applications and safety serving the industrial, educational, medical, research and government communities throughout the world since 1968. http://www.lia.org, 13501 Ingenuity Drive, Ste 128, Orlando, FL 32826, +1.407.380.1553.