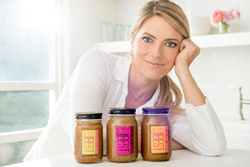 Naples, FL (PRWEB) March 02, 2015
Betsy's Best (betsysbest.com) – the acclaimed line of gourmet & all-natural nut and seed butters (peanut, almond, and sunflower) – is proud to announce its availability in 11 Bristol Farms locations in Southern California.
Betsy Opyt, President and CEO of Healthy Concepts Food Company, LLC, created the brand as a gourmet yet healthy alternative to other available nut and seed butters. Each jar features her signature blend of unique ingredients like cinnamon, chia seeds, and pink Himalayan salt.
"I'm so excited to bring Betsy's Best straight to the West Coast," said Opyt. "Our customers have fallen for our distinct flavor profile, and I'm confident that Bristol Farms' shoppers will do the same."
The entire line of Betsy's Best, which launched in October 2014, can also be purchased in all Florida Whole Foods Market locations and online at betsysbest.com. In addition to those outlets, the company is actively pursuing additional distribution opportunities in the United States.
About Healthy Concepts Food Company, LLC:
Healthy Concepts Food Company, LLC is a gourmet and health food company based in Naples, Florida. Founded by Betsy Opyt in 2012 – a Registered Dietitian, personal trainer and Certified Diabetes Educator – the company is dedicated to producing gourmet, original consumer products that utilize the world's best all-natural ingredients to create food to fall for.
Contact:
Devin Desjarlais
PR Manager
devin[dot]desjarlais[at]omeletla[dot]com
424-672-8606