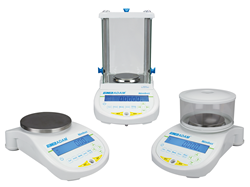 Adam Equipment will be at booth #3916 during Pittcon with a selection of scales and balances, including Nimbus analytical and precision balances, which feature sky-high performance with down-to-Earth value.
Danbury, Connecticut (PRWEB) February 28, 2015
Adam Equipment, a leading provider of balances worldwide, will be exhibiting a selection of laboratory balances at booth #3916 during Pittcon from March 8-12, 2015 at the Ernest N. Morial Convention Center in New Orleans.
In the spotlight will be Adam's Nimbus precision and analytical balances, which are now shipping in all regions. Nimbus analytical and precision balances feature a compact footprint and easy operation, offering sky-high performance with down-to-Earth value.
With readabilities from 0.1mg to 0.1g and USB and RS-232 connections, the Nimbus provides a streamlined weighing experience for discerning laboratory professionals worldwide. Solid metal construction throughout the balance provides the durability to withstand chemicals and rigorous daily use. Click here to learn more about Nimbus analytical balances. Click here to learn more about Nimbus precision balances.
Adam representatives will be on hand during Pittcon to meet with participants, to demonstrate a selection of lab balances and answer questions about any of Adam's products. Click here to learn more about the full line of laboratory equipment. To download the new lab catalog, click here.
This is Adam Equipment's 16th year as a Pittcon exhibitor, and this year our booth will spotlight analytical balances, top-loading balances, moisture analyzers, industrial and medical scales, plus an anti-vibration table and other accessories. To make an appointment to meet with them at Pittcon, email us at info(at)adamequipment(dot)com.
Pittcon is the world's largest annual conference and exposition for laboratory science. The show attracts professionals such as laboratory technicians, chemists, students and researchers from around the world, and features the latest in laboratory technologies and scientific instrumentation from hundreds of exhibitors, including Adam Equipment.
About Adam Equipment
For more than 40 years, Adam Equipment has designed and manufactured precision balances and scales for professionals worldwide in the laboratory, medical, education, industrial, food, animal/veterinary and jewelry markets. Adam is committed to offering an extensive selection of weighing equipment with best-in-class value. Headquartered in the United Kingdom, the company has strategically established offices in the United States, South Africa, Australia and China to provide product support and speedy delivery to distributors. For more information about the company and its products, go to http://www.adamequipment.com.