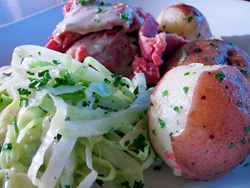 Washington, DC (PRWEB) February 26, 2015
Chinatown will never be the same after the best St. Patrick's Day party in D.C. hits Fadó Irish Pub. On March 17, doors open at 8:00 a.m for breakfast and live music starts at 2:00 p.m. Irish dancers to perform throughout the day. $10 cover starts at noon. March 14, or St. Practice Day, Fadó hosts brunch with great craft beer and cocktail specials 'til 2:00 p.m. Full menu of traditional Irish fare is available all day. European sports will be on, featuring 6 Nations Rugby and English Premier League soccer, followed by traditional Irish dancers. Live music ends the night as Stout 7 crashes the party at 9:30 p.m.
St Patrick's Day 2015 is not just a day at Fadó Irish Pub, its a season. Here's what to expect during DC's most anticipated St. Paddy's celebration this March:
Perfect Pint Contest - Sunday, March 8 - Circle the date for this neighborhood "pour-off." Serious bragging rights are at stake. Additional details to follow on our website.
Whiskey 101 Crawl – Thursday, March 12, 7.30 p.m. - Fadó is hosting a one-pub "Whiskey Crawl" where we will taste and talk our way through American, Scotch and Irish whiskey. Up your knowledge of one of the premier liquors of the world. $50 for 1 ticket or buy two tickets for $60 and save. Tickets to the event can be purchased here - space is limited so buy your tickets now.
St. Practice Day, Saturday, March 14 - Doors open early for European sports including 6 Nations Rugby (no cover) and English Premier League soccer. Full brunch will be served through 2:00 p.m., while a full pub menu is available all day. Irish dancers will take to the stage throughout the day, as Stout 7 brings its music to the pub at 9:30 p.m. A full day of traditional Irish food, great beer and cocktails and craic.
Parade Day, Sunday, March 15 - No Paddy's Day party is complete without a trip to watch the parade. Doors open early, so stop in for a pint before the festivities or after. Danny Bruns will provide live music from noon - 4:00 p.m.
Super Paddy's Day Pub Quiz – Monday, March 16, 8:00 PM - Test your knowledge of the Motherland at this all-Ireland pub quiz. Drink specials will be offered and prizes will be awarded. Free to play and new teams are welcome.
St. Patrick's Day, Tuesday, March 17 - Opening at 8:00 a.m., Fadó will start Paddy's in Chinatown with breakfast and a pint. Join us for the festivities as Irish dancers and bagpipers keep you in the spirit throughout the day, and our traditional menu keeps you full. Live music begins at 2:00 p.m. but $10 cover begins at noon.
St Baldrick's Charity Event, Sunday, March 21 at 4:00 p.m. - An annual head-shaving event where the community raises money and awareness to help fight children's cancer. Fun Fact: "craic" is an Irish term meaning good times," so we like to always say that this event is "great craic for a great cause". We have a $30,000 fundraising goal and shavees are already signing up. Go here and find out how you can participate and donate to the cause.
Door cover: $10 cover on March 17th. 21 and over restrictions are noted throughout the special events.
About Fadó Irish Pub
Fadó (pronounced fuh-doe) Irish Pub was the first Irish pub to be designed and constructed in Ireland and shipped and installed in Atlanta. Fadó is distinguished by its genuine Irish hospitality, quality of its pints and craic (pronounced 'crack', a uniquely Irish form of fun). Fadó has been voted 'Best Of' by a number of local and national publications. Get more information by visiting the pub's website, Facebook page or by following Fadó on Twitter @fadodc and following the #stpatricksday2015 #fado2015