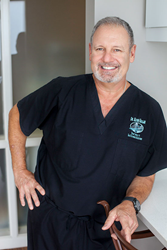 Mount Pleasant, SC (PRWEB) February 26, 2015
Patients with gum disease in Mount Pleasant, SC can now receive a revolutionary laser gum surgery treatment called the LANAP® protocol from Dr. Kevin Hogan. Patients who do not want to undergo traditional gum disease removal methods are encouraged to find out if they are good candidates for this accurate and beneficial periodontal disease treatment option.
Gum disease is one of the most common periodontal conditions affecting millions of American citizens every year. In fact, approximately 75-80 percent of the population suffers from some form of gum disease. Patients with gum disease in Mount Pleasant are encouraged to seek prompt treatment in order to avoid further complications that have been shown to be linked to gum disease, such as heart disease. Traditional gum disease treatments typically involve the use of scalpels to cut out visibly inflamed gum tissue, but laser gum surgery helps to increase the accuracy of such procedures and minimize potential damage to healthy gum tissue.
The LANAP® protocol is FDA-cleared and has proven to be an effective treatment option for patients with various stages of gum disease. During the LANAP® protocol, a highly advanced laser called the PerioLase® MVP-7™ is utilized to pinpoint diseased gum tissue with superior accuracy and thus reduce the chance that healthy gum tissue will be harmed. In addition to sparing healthy gum tissue, the LANAP® protocol also causes minimal bleeding and does not require the use of sutures. Patients who elect to receive LANAP® usually experience minimal post treatment discomfort.
The LANAP® protocol provides an added benefit by encouraging healthy tissue to reattach and protect the supporting structures of the teeth. Most patients who receive this treatment option are able to return to their normal daily activities the following day.
All patients suffering from gum disease in Mount Pleasant, SC are encouraged to schedule an appointment with Dr. Hogan's office to find out if they are good candidates for laser gum surgery.
About The Doctor
Dr. Kevin Hogan is general dentist providing individualized care for patients in Mount Pleasant, SC. Dr. Hogan is a graduate of the Indiana University School of Dentistry and has completed hundreds of hours of continuing education courses to stay up to date with the latest dental technologies. In addition, he has also completed coursework with the Dental Organization for Conscious Sedation and has lectured at both the University of North Carolina and Emory University. Dr. Hogan is a member of the American Dental Association, International College of Cranio-Mandibular Orthopedics, Academy of Laser Dentistry, International Association of Physiologic Aesthetics, Institute for Advanced Laser Dentistry, among many other. He and his team are dedicated to providing exceptional oral care to patients through personalized treatment plans. To learn more about the services offered by Dr. Hogan, please visit his website at http://www.smilesbyhogan.com or call (843) 639-5044.