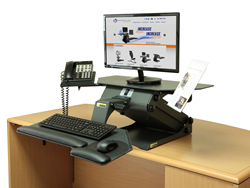 Ergonomically correct workstations can dramatically reduce employee injury and improve productivity.
Burnsville MN (PRWEB) February 27, 2015
Ergonomics and workstation solutions innovator, HealthPostures, announces that one of its leading dealers, Harris WorkSystems, will exhibit its products at the Oregon Governor's Occupational Safety and Health (GOSH) Conference. The four day conference is the largest health and safety event in the Northwestern part of the United States. Theme of the conference is "It's a marathon, not a spring."
The location for the regional event is the Oregon Convention Center. Products that Harris WorkSystems may exhibit at the conference include ergonomic chairs, stacking and nesting equipment, anti-fatigue mats and sit to stand solutions. Sit to stand solutions designed by HealthPostures that conference attendees will get the opportunity to tryout firsthand and gain more information on are the popular TaskMate EZ, TaskMate Go, Surface TaskMate and TaskMate Executive.
HealthPostures' workstation solutions are desk mounted, adjustable and easy to assemble. Solutions like the Surface TaskMate are built to complement a range of desks, monitors and chairs. The ergonomics products are among the company's top items out of the 1,000 products that it carries by 300 manufacturers. As evidenced by the inventory her company carries, Colleen Harris, Harris WorkSystems' President believes that, "Ergonomically correct workstations can dramatically reduce employee injury and improve productivity." Together, HealthPostures and Harris WorkSystems' teams have more than 90 years of ergonomics and workstation solutions experience.
Among the sponsors for Oregon's GOSH conference are Liberty Mutual Insurance, Saif Corporation, Portland Business Journal, Pacific Power, Morrow and Hoffman Construction Company. Keynote speaker is Jim Wiethorn, Chairman of the Board at Haag Engineering Company. Breakout sessions, workshops, exhibits, a luncheon and awards ceremony are scheduled. As many as 115 workshops and 150 exhibitor booths will be at the conference. More than 2,500 professionals have attended the state's previous GOSH events.
About HealthPostures
HealthPostures LLC (https://healthpostures.com) builds ergonomic and rehabilitative furniture and equipment that helps people to stay healthy while they work. The firm has been designing and manufacturing ergonomic sit stand solutions since 1996. Part of the company's mission is to "strive to provide quality products that will help transform your sedentary life so you have a healthy way to work." Healthy office solutions sit stand products Health Postures designs and manufactures include dual monitor sit stand work stations, monitor arm accessories, adjustable mouse stands, dual Stance move seat extensions, industrial surface Taskmates and Stance Move chairs.
Contact:
HealthPostures LLC
14310 Ewing Avenue South, Suite 100
Burnsville, MN 55306
800-277-1841
https://healthpostures.com
About Harris WorkSystems
Harris WorkSystems (http://www.harrisworksystems.com) has been serving the ergonomics and workstation solutions community for nearly two decades. The company was founded by Colleen Harris, an ergonomics leader, who has been working in the industry since the 1990s. Customers that Harris WorkSystems supplies products for include Reed College, Xerox, Tektronix and the State of Oregon. In addition to accessories, the company supplies furniture and other equipment for offices and cubicles.
Contact:
Harris WorkSystems
12150 SW Garden Place
Tigard, OR 97223
800-577-4797
http://www.harrisworksystems.com/
Sources:
http://oregongosh.com/