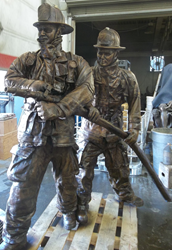 working on this project has been an incredible learning experience. I have a new found appreciation for what it takes to be a firefighter. The hard work and dedication these men put in is amazing
Spring, Texas (PRWEB) February 28, 2015
At Big Statues the studio sees many commissions for icons and heroes. However, one of the most inspiring statues created are those of individuals that protect and defend others. On March 2, 1985, District Chief Michael West was killed fighting a 3 alarm fire off of Spring Cypress Road. The studio is proud to announce the completion of the inspiring bronze firefighter statue that will sit in front of the Spring Fire Department in Texas to honor Michael West and all firefighters of Harris County.
At Big Statues, hundreds of hours went into the research and creation of this life-size statue to make sure all specs of the hose, uniforms, to the helmets were completely accurate. Matt Glenn, lead sculptor said, "working on this project has been an incredible learning experience. I have a new found appreciation for what it takes to be a firefighter. The hard work and dedication these men put in is amazing." Big Statues artists worked with Joiner Architect, the department chief, and Cascade Coordinator Dave Corson to construct the concept and design of this extremely detailed sculpture.
Spring Fire Department in Texas is now home to the one of a kind custom bronze statue. The statue shows two firefighters grasping a spurting fire hose, depicting a scene from the middle of a fire emergency. This bronze firefighter statue honors fallen, and active firefighters protecting Spring City. Although the losses leave huge voids that can never completely be filled, this statue pays tribute to all the sacrifices made by firefighters serving the community.