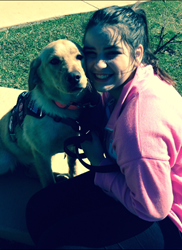 A trained dog like Bailey can recognize and alert blood sugar, dial 911 on a special K9 device, awaken another person for help, and retrieve essential medications, so we must continue to do everything in our power to make this happen
Dallas, TX (PRWEB) March 02, 2015
Coping with the serious symptoms of Type 1 Diabetes for 16 years, Courtney Austin from Dallas, TX and her family have been campaigning to raise $16,000 for a trained dog that can alert Courtney of her blood sugar levels to help prevent seizures, and even save her life. They have announced that $6,000 has already been raised, and a new campaign is now active in hopes of gathering the remaining $10,000 they need to bring dog Bailey home.
The Austin family reported immense support from their community, and is very thankful for the combined efforts invested in their cause so far. They displayed special gratitude for the work of local insurance agency, ProVest Insurance Group, which has hosted and promoted one campaign in the past to help raise the necessary funds to bring Bailey home, and is now behind this current initiative, as well. The new fundraising page can be accessed here: http://www.razoo.com/br/causes/Bailey-The-Life-Saving-Dog.
In the past 5 years Courtney has undergone treatment for low glucose levels, kidney malfunctions and sadly lost a close friend to the disease. "We can only imagine how scary it is for Courtney and her parents to live with the daily threat of a seizure and other serious risks posed by Type 1 Diabetes… A trained dog like Bailey can recognize and alert blood sugar, dial 911 on a special K9 device, awaken another person for help, and retrieve essential medications, so we must continue to do everything in our power to make this happen," said Jay Adkins, the principal at ProVest Insurance Group.
The agency will donate $10 to the cause for each person recommended to the agency for a quote – no purchase necessary. Anyone willing to help this campaign can recommend someone they know might need a new insurance evaluation for their auto, home, life, and more.
With agencies in Texas, Florida, and North Carolina, ProVest Insurance Group is employing its social media channels, email and text message communications in the campaign, and dedicating a full page of their monthly magazine to the cause. The electronic version of Our Hometown magazine can be viewed here: http://provestinsurance.com/Our-Hometown-Magazine_10.
Operating as agents of change in the community, ProVest will continue to work for causes like Courtney's. Any members of the community can request to be considered for future campaigns through this link: http://provestinsurance.com/Submit-A-Community-Cause_25. Entries are diligently submitted for review, and the elected worthy causes are properly contacted by a representative of ProVest's Community Program. More information regarding past and current campaigns supported by ProVest Insurance Agency can be found at http://www.provestinsurance.com/community-cause.
About ProVest Insurance Group
ProVest Insurance Group's mission as a team is to provide the best insurance and financial services in the industry. Their number one job is to protect the current assets clients have worked so hard for, and to help them invest so they can retire with the right amount of money. ProVest's success is measured by customer satisfaction and the value they bring. The capable agents at ProVest can be easily reached at 1-855-298-7427. More information about the company can be found at http://provestinsurance.com.