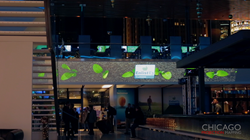 This space is all about innovation—pushing technology to create compelling results for brands
Chicago, IL. (PRWEB) February 27, 2015
Chicago-based projection mapping company Chicago Projection Mapping (CPM) is please to announce the commission of a new 3D installation in a corporate innovation center. Work has already commenced on the cutting-edge visual implementation, meaning that once finalized, the installation will be projected in a way that seamlessly blends in and interacts with key features within the center.
Because this installation will be permanently housed, there are several key challenges that the designers at Chicago Projection Mapping sought to address. First and foremost, the content of the installation must invoke and augment the efforts taking place in the corporate center. As the center is a base for major brands looking for new and interesting directions in visual and retail media, it only makes sense that projection mapping would be featured front and center. The largest benefit of a permanent installation is that the content can be switched out on a case-by-case basis, allowing the corporate client to emphasize new brands, campaigns, holidays, and special events.
"We're really excited by the collaboration that is taking place," said Mark Smith, CEO and founder of Chicago Projection Mapping. "This space is all about innovation—pushing technology to create compelling results for brands. And in a very real way, that's what Chicago Projection Mapping has been doing from the very beginning." Smith went on to discuss the history of projection mapping technology, its push for realism and artistry, and about how technology is always racing to catch up. "We're always pushing the boundaries," he said. "Of course, we wouldn't have it any other way."
The installation of the mapping hardware will be completed first. After that, Chicago Projection Mapping will generate the content and animations, a process taking several months, before the final presentation will be showcased to clients new and old in the center. According to Chicago Projection Mapping, this installation will feature many first-to-market projection techniques that will wow clients who enter the corporate innovation space. In other words, the installation has been, and will continue to be, calibrated on a daily basis to perfectly match the audience's goals and motivations.
This type of project is likely to be repeated in the future, as more corporations look for innovative ways to impress clients, shareholders, and investors alike (not to mention employees). Three dimensional projection mapping is a novel and innovative technology that pushes the envelope while blurring the lines between fantasy and reality. As such, it makes a great, show-stopping conversation piece whether it's at a corporate event, a shareholder meeting, or in a hotel lobby. The creative ways in which the installation interacts with its environment is what makes the technology striking and the displays resonant. To get more information about how this innovative technology could work for your corporate space or next activation, contact Chicago Projection Mapping via e. mail at Info(at)ChicagoProjectionMapping(dot)com.
Call The Chicago Office at 630.620.0000
Email us at Info(at)ChicagoProjectionMapping(dot)com
CPM capabilities …

3D and 4D Projection Mapping Design
Temporary and Permanent Installation
Consultation on All Aspects of Mapping Process
Show Design and Integration
Pre-Visualization, including storyboards and renderings
In-House 2D and 3D Animation Team
Custom Interactive Design Capabilities
Asset Reconfiguration for Brand Consistency
Integration with all major video and media formats
Custom Media Servers for flawless operation
Experience with all standard mapping hardware and software
Partnerships with regional and national hardware vendors
On-Site Setup, Mapping, and Event Operation
Remote access and operation for permanent installations
For more information, please visit http://www.ChicagoProjectionMapping.com, or call 630-620-0000.