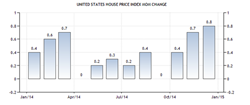 another positive monthly change is highly likely.
Chicago, IL (PRWEB) February 26, 2015
Lenders like Peoples Home Equity were pleased to see today's House Price Index data for December.
Today, February 26th the Federal Housing Finance Agency released their latest House Price Index result showing a 0.8% rise in December. This positive change is the highest observed for the past 12 months. To use as a barometer, the index reached a low of -1.72% in November 2008 and a high of 1.42% in March 2013. December marks the 3rd consecutive positive month-over-month rise since September 2014. The index changed 0% in September 2014, 0.4% in October, 0.7% in November, and now 0.8% in December. Peoples Home Equity thinks the index may not be able to show a higher change in January than the one already observed for December due to housings seasonal winter slump. However, the lender does believe another positive monthly change is highly likely.
Moving into spring months Peoples Home Equity knows applications will strengthen and a high positive index change will be highly likely. For now a high index change for January is unlikely as Americans want to finish filing their 2014 tax first to prove their new found employment or high earnings to their loan officer first before applying for a home loan, hence the house price index is not expect to rise much. Yes the index will rise due to pent up demand, but as soon as America's youth, who are very eager to stop paying rent, get approved for a home loan, the House Price Index will experience significant monthly changes.
If in need of a mortgage, contact a Peoples Home Equity loan officer today at: 262-563-4026