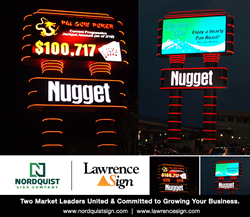 We are pleased to have been a part of this marquee sign project in the Reno area.
Minneapolis, MN (PRWEB) February 27, 2015
The Nugget Casino in Reno undertook the sign renovation as a part of a bold commitment to transforming the property. Casino ownership recognized the importance of leveraging the high exposure of their location on the Interstate. Knowing this was their cornerstone-messaging platform to the area, a portion of the property's advertising funds were repurposed to support the project.
The Nugget pylon stands 98' high and is 55' wide. Project requirements included replacing the existing messaging display with a new state-of-the-art LED Dynamic Video & Graphic Display measuring 25' high and 45' wide. Other executables included refacing the large Lexan cabinet ends and pole covers, installing new channel letters with changeable color LED illumination and replacing existing neon trim with dimmable LED accent lighting. The display and lighting elements are programmable remotely.
"We are pleased to have been a part of this marquee sign project in the Reno area," said Robb Walker, CEO of Nordquist Sign. "It represents our first engagement with the Nugget Casino and our biggest project in the Reno area."
"The team at Nordquist Sign collaborated with our renovation team and was very responsive to our needs," said Carlton Geer, President and CEO of The Nugget. "Nordquist recognized the need for a signature sign that served two communications purposes, a welcome to our customers as they arrived, and an advertising platform for the significant daily traffic."
About Nordquist Sign & Lawrence Sign
Nordquist Sign has been fabricating and installing interior and exterior signage, architectural elements and way-finding signage for more than 100 years. Nordquist's customer base and scope of work includes custom signage and environmental graphics for hospitals, sports facilities, themed entertainment, corporate/financial and mass transit industries. Nordquist Sign also maintains a gaming division with offices in Las Vegas, NV and St. Paul, MN to serve casino gaming markets throughout the United States.
For more than 80 years, Lawrence Sign has been assisting prominent companies to grow with new locations coast to coast with their multi-site sign programs. Lawrence Sign proactively manages every aspect of their customers' sign programs including design, regulatory compliance, fabrication and installation and ongoing maintenance.
Lawrence Sign utilizes advanced technologies and expansive facilities to provide direct in-house control of the entire sign fabrication process. The Company excels at serving companies with a multi-site national and international presence.
In early 2012, Lawrence Sign combined with Nordquist Sign to unite the unique resources and capabilities of the two companies. Together, Lawrence Sign and Nordquist Sign offer their clients over 175 years of experience in sign manufacturing and installation for all facets of the signage industry.