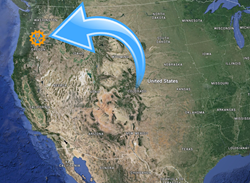 Virtuabotix is excited to play its part in keeping Portland weird.
Portland, OR (PRWEB) February 28, 2015
Virtuabotix.com is proud to be one of the newest tech companies in Portland, Oregon, and in keeping with local traditions Virtuabotix is excited to play its part in keeping Portland weird. Team members in the Portland office are also thinking about growing more facial hair in order to better fit into their new community.
Virtuabotix LLC has been a member of the Open Source community since 2011 and recently relocated it's headquarters, and operations center to Portland, Oregon from Colorado Springs, Colorado. The Electronics company is excited to offer its customers around the world the same great level of service and quality that they are accustomed to, with the added benefit of more room for growth, and sales tax-free purchases to all customers in the United States.
Virtuabotix has already started growing its operations team, and is working closely with local schools to help spread the spirit of Open Source hardware and software. "We are very excited to become a part of the amazing culture, and community that Portland has to offer!" exclaimed Joseph Dattilo (founder Virtuabotix LLC) when asked about his teams feelings about their recent (Nov 2014) relocation.
"We have already started to expand our team, and grow our already amazing selection of nerdly goodness." explained Kat Dattilo, Director Operations Virtuabotix LLC. Among the many improvements that have come about in the months after the companies move are the launch of over 20 new products, the stream line of shipping and customer support operations, and the integration of the development team with operations to help with quicker turn around on quick fixes and upgrades to the most popular Virtuabotix.com gadgets. Integrated customer service means that phone calls, and emails to Virtuabotix are now processed in one system that allows the team to better serve it's customers, and is making it possible for more launches and resources to be developed for the ever growing list of Virtuabotix.com customers.
One of the things the Virtuabotix team was most excited to share were their plans to start participating in Portland and surrounding locations, including Seattle, WA, many local events and trade shows in the near future. The Virtuabotix team have also expressed an interest in learning about events and schools that would like to have them take part in or present to as well. "We're REALLY excited to get immersed in the great Pacific Northwest culture." Exclaims Joe Dattilo, Owner and operator of Virtuabotix LLC.