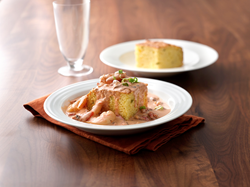 The three finalists in the first Neighborhood to Nation Recipe Contest truly represent the heart of their neighborhoods and communities.
Westchester County, NY (PRWEB) February 27, 2015
Wobble Cafe, a family-friendly restaurant favorite in Ossining, has been named one of three finalists in General Mills Foodservice's first annual Neighborhood to Nation Recipe Contest, which celebrates independent family or "neighborhood" restaurants across the country and their one-of-a-kind dishes that reflect their local flavor.
Wobble Cafe will join two other finalists, one from Texas and another from Massachusetts, for a special event taking place March 11 at General Mills' headquarters in Minneapolis. Celebrity Chef Amanda Freitag will be onsite to meet with each of the finalists and announce the official Grand Prize winner who will receive $50,000 ($40,000 cash plus $10,000 for a local charity of their choice). The two runners-up will each receive $10,000.
"The three finalists in the first Neighborhood to Nation Recipe Contest truly represent the heart of their neighborhoods and communities," said Danielle Benson, associate channel manager for General Mills Foodservice. "In addition to revealing their winning recipes, we are honored to share their unique stories, which showcase the strong connection that local family restaurants play within their community."
Wobble Cafe is owned and operated by Beylka Krupp with her husband Rich Foshay. Having trained at various restaurants, including the famous Commander's Palace, their experiences help them turn out great-tasting familiar favorites, as well as more unique dishes. The couple's own children, a son who is 11 and a daughter who is 8, also contribute to the restaurant's family-friendly vibe as they are regularly seen at the restaurant bussing tables, seating guests or entertaining younger customers.
Krupp's submission for the Neighborhood to Nation Recipe Contest, Shrimp Etouffee, is inspired by her time spent honing her culinary skills in New Orleans.
"While our customers at Wobble Cafe appreciate dishes that are different and inventive, we work to make them appealing to all palettes," said Krupp, who believes using shrimp makes the dish more approachable as traditionally it is served with crawfish. The recipe also features tomato, garlic, onion, cream, Cajun spice and herbs served with rice and cornbread. The dish has such a large customer following that many people request to be notified when Krupp has prepared it.
To qualify for the Neighborhood to Nation Recipe Contest, restaurants from around the country submitted their favorite original breakfast, entrée or dessert recipes using at least one ingredient from General Mills' list of eligible products. Open to foodservice operators, chefs and line cooks at independent family dining establishments, the annual contest puts neighborhood restaurants' dishes in the national spotlight.
Neighborhood to Nation was created to inspire culinary creativity among independent restaurants, giving operators an opportunity to experiment with high quality and consistent products from General Mills Foodservice as well as exclusive access to trend information, insights and ideas to help them differentiate their menus and delight their diners.
Wobble Café is located at 21 Campwoods Road in Ossining. For more information on Neighborhood to Nation, the finalists, the finale celebration and the announcement of the Grand Prize winner, please visit http://www.NeighborhoodtoNation.com.
About General Mills Convenience & Foodservice
The General Mills Convenience & Foodservice division serves the convenience, foodservice and bakery industries by providing quality products from time-trusted brands along with culinary, nutrition education and marketing resources to help operators succeed. Its distinguished brand portfolio includes Big G Cereals, Yoplait, Nature Valley, Gold Medal, Pillsbury, Chex Mix, Bugles, and Gardetto's. Headquartered in Minneapolis, Minnesota, USA, the division had fiscal 2014 net sales of $1.9 billion. For more information, please visit http://www.generalmillscf.com.
About the Village of Ossining
On April 2, 1813, the Village of Ossining became the first incorporated village in Westchester County to be state-chartered. Today, Ossining is a culturally diverse, affordable place to live, rich in both history and natural beauty. Approximately 25,600 people reside in the three and one half square miles of this historic Village on the Hudson River, which boasts extensive shopping, recreational programs, educational enrichment opportunities, and excellent municipal services. Ossining's role in New York's heritage has been recognized by its inclusion, as one of only 14 areas, in an Urban Cultural Park System designed to attract visitors to the State. Visit http://www.villageofossining.org for more information.