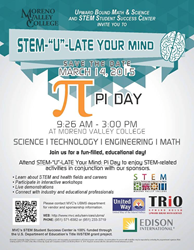 Rancho Cucamonga, CA (PRWEB) February 27, 2015
RDI-Engineering will be hosting an educational exhibition at the STEM"U"LATE Your Mind: Pi Day event on March 14, at Moreno Valley College. The station will provide information about RDI-Engineering's services, demonstrations on how to use engineering software and tools, and a few hands-on science activities. The event will be hosted by Moreno Valley College's Upward Bound Math and Science (UBMS) Program and the STEM Student Success Center (SSC) in hopes to encourage students to seek educational and career opportunities in Science, Technology, Engineering, and Math (STEM). The event will feature several STEM learning stations and displays from professional, community, and educational institutions.
"RDI believes in the value of education and using that education to help better the world. Education and careers in science, technology, engineering and math are powerful ways in which to shape the world. RDI is honored to provide students with insight into some of the opportunities available to them" said CEO, Hector Mendoza Jr.
The event will be free and open to elementary through college level students, friends, and families from the Moreno Valley and Inland Empire region. There will be over 40 STEM-related exhibitors with live demonstrations, activities, and interactive workshops.
"The purpose of this event is to increase the number of students interested in pursuing educational and career opportunities in STEM and health related fields. It's important for students to become aware of the endless opportunities these fields have to offer. These children and young adults can be the next generation of scientists and innovators" said Director of the UBMS, Micki Clowney.
The STEM"U"LATE Your Mind: Pi Day event will be held on March 14, 2015 at 9:26 a.m. (3.1415926) and will end at 3:00 p.m. The event is being held on national Pi day, which honors the mathematical constant, Pi.
###
About RDI-Engineering:
RDI-Engineering is a certified minority-owned company that was founded by CEO, Hector Mendoza Jr. in 2009. RDI-Engineering offers a variety of services for the utility and telecommunications industry. From highly effective project management to the latest in architecture, engineering and construction, all resources are used to achieve the highest quality of customer satisfaction.