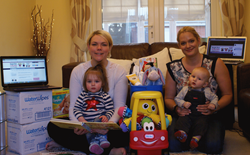 Our highly passionate members makes us different to other bargain sites, we have been overwhelmed with their support! Amanda Viner, Director of BB4BM
Norwich, UK (PRWEB UK) 3 March 2015
Bargain Buys for Busy Mums (BB4BM) has announced that they will be working with a number of charities across the UK in keeping with their commitment to give back to the community. This comes days after news of additional features being released that aim to assist it's members in never missing out on a money saving bargain.
The first charity give-away will take place in March 2015 with a selection of toys being donated to Julia's House, the children's hospice charity in Dorset, UK. Other charities across the country will also benefit from the toy donations throughout the year.
"We're happy to be able to make this toy donation and share some joy with children in need. As busy mums, we know that play time is a very important part of our kids' development, and we want to make sure that children have access to toys to help stimulate their emotional and cognitive skills," says Jody Leggett, Director of BB4BM.
BB4BM is an active community of parents who are passionate about finding great products while saving money. Over 50 new deals are added to their site daily, with newly released features such as 'Sales alerts', 'Bargain of the Day' and 'Secret price glitch alerts' maximising the chance of members getting a top bargain.
In addition to the 185,000 member strong Facebook community, the team recently launched a sister Facebook group called 'Travel Bargains from BB4BM' which already has close to 10,000 members. This new group is dedicated to offers on travel related bargains, from value holidays to cheap deals on sun cream.
New members are welcome to join the Facebook groups or visit their website that lists the latest active bargains and freebies. Members also have access to a monthly newsletter with information on the latest discounts as well as the chance to win prizes.
About BB4BM
The original 'Bargain Buys For Busy Mums' Facebook group (BB4BM) was founded in October 2013 by busy mum of one, Jody Leggett with the vision of helping other local mums find bargains for free. Within a few months, the group evolved into a sprawling community of mums across the UK. Just one year after launching, 120,000 members had become part of the 'bargain community'. They now have more than 185,000 members from all over the world who help each other save money by finding and sharing the best deals across a wide range of products.
Primary BB4BM Facebook Group: https://www.facebook.com/groups/BargainBuysForBusyMums
Travel Facebook Group: https://www.facebook.com/groups/TravelBargainsfromBB4BM