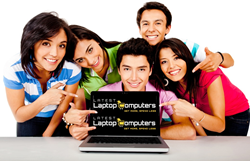 Though we're one of the newest places to buy laptops online, we're cutting no corners to ensure our success with customers and become the first and last place to find high quality laptop computers from top manufacturers
New Haven, CT (PRWEB) March 10, 2015
Latest Laptop Computers, the newest online store for laptop computers, is quickly adapting to its customers' needs, gaining both their loyalty and business. In addition to offering high quality laptops on sale, it provides a wide range of services to complement its well-stocked inventory, including Gift Certificates and Order Status. In an effort to prove its status as a customer-centric business, the laptops seller has decided to roll out an efficient, quick shipping service after its customers requested it.
A spokesperson from the online retailer announced the new service saying, "After receiving many requests for quicker delivery options, we decided to offer one- to three-day free shipping. This is because we aim to be the brand people recommend to those wondering where to buy laptops, which is why we're prepared to go to any means necessary to satisfy our customers and ensure that they pick Latest Laptop Computers whenever they need to buy laptops online."
However, rather than stopping there, the online retailer also decided to make its delivery service free. Considering the fact that the store offers its broad range of personal laptops, student laptops, business laptops, gaming laptops, chromebooks and ultrabooks at pocket-friendly prices, this additional detail will ensure better value for money. Additional services such as reliable pre- and post- purchase customer service via email, phone and chat further guarantee shoppers a good user experience.
"Though we're one of the newest places to buy laptops online, we're cutting no corners to ensure our success with customers and become the first and last place to find high quality laptop computers from top manufacturers," added the spokesperson. "For that, however, we need our customers to provide their feedback and guide us on how to maximize their satisfaction with our products and services."
To find out about Latest Laptop Computers, its extensive collection of laptops and high quality services, direct your browser to http://www.latestlaptopcomputers.com.
About Latest Laptop Computers
Launched in 2015, Latest Laptop Computers is an online store which offers a broad range of laptops, notebooks, ultrabooks and chromebooks from top brands such as HP, Dell and Asus. In addition to providing high quality merchandise at low prices, it offers quick shipping and specializes in pre- and post-customer service assistance via chat, email and phone. With more laptops added to its inventory, Latest Laptop Computers aims at becoming the top destination for online computer shoppers.