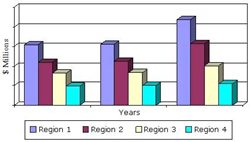 Stents Market to Reach More Than $10.6 Billion in 2019
(PRWEB) March 03, 2015
Wellesley, Mass., March 03, 2015 – BCC Research (http://www.bccresearch.com) in its new report on stents reveals that several innovations and developments are expected to influence the stents market, particularly with bioabsorbable stents. The market is forecasted to grow from nearly $8.1 billion in 2014 to more than $10.6 billion in 2019, at a compound annual growth rate (CAGR) of 5.7%.
The increase in coronary and non-coronary diseases, especially in the global aging population is creating immense pressure on the health care environment, demanding efficiency, product and technology innovation, and different treatment options to meet the growing challenges. Stents are a solution to several such diseases to decrease disease morbidity and mortality rates depending on the type of stents used and their related risks.
Coronary stents, followed by peripheral stents, form the largest sector of the global stents products market. In terms of stent devices, drug-eluting stents form the largest market; however, fully bioabsorbable stents are expected to grow at the highest CAGR of 55.4% from 2014 through 2019. Drug-eluting stents, on the other hand, are expected to fall at a CAGR of -2.6% from 2014 through 2019 due to continuous price erosion, stunted volume growth in some product markets and the introduction of advanced technology such as fully bioabsorbable stents.
The stents market has recently witnessed several innovations and developments, particularly with bioabsorbable stents, that is expected to affect the stents market. "The stents market is mature in key regions such as the U.S. and Europe, where the market's success can only be ensured by developing significantly promising products and/or disruptive technology, which could reinvigorate the market," says BCC Research analyst Himani S. Wadhwa. "This is expected to start happening in the coronary stents market over the next five years."
Stents: Technologies and Global Markets measures, forecasts and segments the global stents market by type of stent devices and products market. The report also highlights key market strategies, trends and recommendations, as well as provides a quantitative assessment of the market to help manufacturers and suppliers understand the growth potential of different market segments. The report focuses on stent devices such as bare-metal, drug-eluting and fully bioabsorbable stents.
Editors and reporters who wish to speak with the analyst should contact Steven Cumming at [email protected]
About BCC Research
BCC Research publishes market research reports that make organizations worldwide more profitable with intelligence that drives smart business decisions. These reports cover today's major industrial and technology sectors, including emerging markets. For more than 40 years we've helped customers identify new market opportunities with accurate and reliable data and insight, including market sizing, forecasting, industry overviews, and identification of significant trends and key market participants. We partner with analysts who are experts in specific areas of industry and technology, providing unbiased measurements and assessments of global markets. Recently selected as the world's greatest market research company, BCC Research is a unit of Eli Global, LLC. Visit our website at http://www.bccresearch.com. Contact us: (+1) 781-489-7301 (U.S. Eastern Time), or email [email protected]