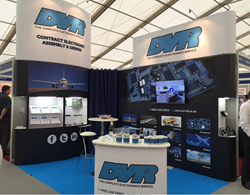 (PRWEB UK) 27 February 2015
With an ever growing team of dedicated staff, new premises and brand new £1 million contract with London Underground, DVR ltd has gone from strength to strength over the past 30 years. Starting in 1985 with design and development of a heat transfer press, DVR has grown from a small family run business to one of the leading Electronics Manufacturing Service (EMS) and Contract Electronics Manufacturer (CEM) providers.
Based in Basildon, Essex, DVR supplies a complete array of services, that can be utilised as 'stand-alone' or a full 'end-to-end' solution, assisting a customer with every element of their project from initial concept all the way through to the finished product. In conjunction with their 'end-to-end' service, DVR offers a full in-house design service, allowing main aspects of production assembly to be considered from the outset. This feature allows DVR to design products with the view that the production times and costs are always taken into consideration for the customer.
This is just one of the many features of the business that DVR showcased on stand E80 at Southern Manufacturing and Electronics in February 2015. The company previously exhibited at Southern Manufacturing in 2014, and after finding the show extremely successful, decided to return this year with a brand new Prestige Exhibition Stand, provided by the exhibition stand designers Quadrant2Design. With over 600 suppliers exhibiting at the show, demonstrating the latest in CNC Machining, Electronic Sub-contract Manufacturing, and Fabrication and Fastenings, Southern Manufacturing is the UK's largest regional manufacturing technology, electronics and subcontracting exhibition.
DVR also plan to show at both Subcon in June 2015, the UK's dedicated contract and subcontract manufacturing show and LuxLive (tbc), the biggest lighting event in the UK.
For more information about DVR ltd, please visit http://www.dvr-ltd.co.uk.
To learn more about the Prestige Exhibition System, visit http://www.prestige-system.com.