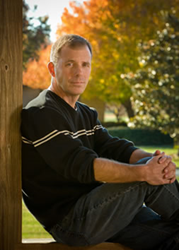 Winston-Salem, NC (PRWEB) February 27, 2015
Dr. Kenneth A. Peavy now offers DentalVibe® at his Winston-Salem, NC, practice to help reduce patient pain when receiving shots. Fear of dentistry and especially the "shots" associated with local anesthetic injection is enough to keep many patients from getting the dental care they need. Needle phobia (trypanophobia) and injections are among the most feared and anxiety producing procedures during dental interventions, and memories of painful dental experiences as children can lead to avoidance of care later as adults. There has been much effort over the years to reduce the pain of shots and with the introduction of the DentalVibe®, we can now deliver the anesthetic without pain. Many of Dr. Peavy's patients often do not realize they have been numbed, and are often surprised when their teeth start getting numb.
The DentalVibe® is a handheld device that delivers pulsed, percussive micro-oscillations (super-fast tapping vibrations) to the site before and during the injection. The tapping and vibrations stimulate nerve pathways that carry these feelings to the brain and mask the pain of the needle insertion (Gate Control Theory).
The anesthetic usually stings as it is goes into the tissues because it is acidic with a pH of about 3.5, but Dr. Peavy also uses a buffering agent (Sodium Bicarbonate 8.4%) to make the anesthetic solution a more normal pH of 7.4 which doesn't sting when given and it works four times faster than normal and doesn't require as much of the solution. When Dr. Peavy combines the ora-gel that makes your gums feel slightly numb with the DentalVibe® and the buffering technique, it is nearly painless. Giving patients the dreaded shot is often very stressful for not only the patient, but the doctor as well. Dr. Peavy says these new techniques and devices have made that a thing of the past.
Anyone looking for more information about DentalVibe® is encouraged to contact Dr. Peavy's office at (336) 934-5023, or by visiting his website at http://www.happygumshop.com/.
About the Doctor
Dr. Peavy is a board certified periodontist in Winston-Salem and has been providing periodontal care for his patients for 25 years. Patients interested in learning more about this procedure can visit Dr. Peavy's website at http://www.happygumshop.com or on You Tube by searching for: "Dr. Peavy shares testimonials pain free dentistry in Winston Salem, NC". Patients may also call 336-774-3001.