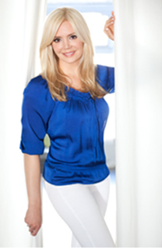 The luminosity it gives the skin tone is amazing, this treatment is one of my favorites, to re texture a woman's neck and chest.
(PRWEB) February 27, 2015
FACE Skincare~Medical~Wellness, a multiaward-winning leader in bringing world-class beauty therapies, has announced a unique combination to take fifteen years off of an individual's face and neck. Ultherapy Décolletage is a new treatment introduced that is the first and only FDA cleared noninvasive procedure specifically indicated to improve lines and wrinkles on the Décolleté. This new treatment is for any person who suffers from the stubborn vertical lines between the upper breast tissues, and now see dramatic changes in just one treatment.
The Ultherapy Neck treatment is the only FDA cleared device to physically lift tissue, and the most remarkable non-invasive treatment to lift, next to surgery. Recently the FDA cleared for vertical chest lines, CEO of FACE, and celebrity skin guru Holly CaSaroll says, "I love how transforming this can be for a woman. You can get a neck lift in just over an hour, and leave without downtime, and get rid of the lines on your chest. Just know that cumulative results present themselves at about three months. What is great about this treatment also is that you only need to do it once a year."
Professional dermatological peels can have a profound effect on the skin's texture in this area. Medical peels solve this issue by lifting off dead skin cells, stimulate cell turnover, and make the skin look silky and smooth. Usually a series of peels are recommended, an individual can just do 1-2 deeper peels where the skin will have the side effect of peeling for a few days, but will have a faster and more profound effect.
One of the most advanced vascular lasers in the world is called Coolview, this helps with the sun damage that leaves the neck and chest with redness, brown spots, and broken capillaries. With little to no downtime, and in just a 30 minute session, your skin tone can look more even in as little as a few weeks. Just don't have this before a big event, as it makes the skin swollen immediately post treatment, and reds and browns look splotchy afterwards for 10 days or so. Holly suggests, "I usually recommend 2-3 treatments per area. For those a little laser shy, Limelight is a great option, as there is less swelling, as it is less deep."
FACE also would like to introduce Permea. This fractional laser is fantastic for those individuals who have excessive pigment and sun damage in this area along with irregular texture. Usually four treatments spaced two weeks apart can make an individuals chest look like a twenty year old. This particular laser wavelength is very attracted to our melanin which is what gives us pigment, so it is preferred over other fractional lasers. Holly says, "The luminosity it gives the skin tone is amazing, and this treatment is one of my favorites, to re-texture a woman's neck and chest."
About Face~Skincare~Medical~Wellness:
A multi-award-winning beauty and wellness clinic, founded by skin guru, Holly CaSaroll.
Over 17 years ago, CaSaroll rebuilt her own skin, disfigured from cystic acne, and has since created one of the most extensive skin clinics around, offering 24 Laser and Facial machines, liquid face lifts and body makeovers. Based on her innovative Skin Management Model Holly has helped thousands. She has been featured on TV, covers of magazines, and interviewed as the "Skin Guru" in several publications, as well as has a monthly column in MY Magazine's "Ask the Expert." Her wellness division, headed by Dr. Doug Cutler, a Licensed Naturopathic Physician, finds the root cause of imbalances in the body to create overall well-being and beauty from the inside out.