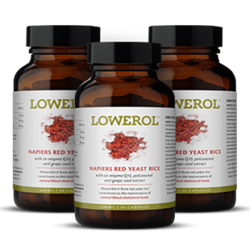 I'm confident that, as a unique supplement, Lowerol will be a huge success for the affiliates who get behind it.
(PRWEB) March 02, 2015
Lowerol contains proven cholesterol lowering ingredients such as; Red Yeast Rice, which reduces the body's natural cholesterol production; Grape Seed Extract, which delays the oxidation of Low Density Lipoprotein (LDL) cholesterol; and Policosanol, a sugar cane extract which increases the breakdown and removal of LDL from the body's cells.
Head of affiliates at MoreNiche, Josephin Crichton, says "We're excited about Lowerol both as a new product and an affiliate programme. I'm confident that, as a unique supplement in a relatively low competition niche, Lowerol will be a huge success for the affiliates who get behind it."
As the safety and ethics of statins are once again discussed in both the medical world and the wider media; Lowerol arrives at the ideal time for affiliates to take advantage. This debate is likely to encourage a desire to better regulate one's cholesterol in order to avoid being prescribed statins, leading to more searches for cholesterol lowering advice and products.
With an engaging and attractive website, Lowerol makes its affiliates' job a little easier. There is a plethora of useful facts, statistics and visual aids which can all be used to reinforce affiliates' own content. A quiz to help visitors identify if they may be at risk of high cholesterol is also available and can be used as a helpful tool to drive traffic to the website and encourage visitors to purchase, if required.
In addition to Lowerol, affiliates can earn commission from a cholesterol home test which is available to buy from the website. Consumers who purchase this home test receive a discount voucher for Lowerol, encouraging them to purchase the supplement if the results suggest that they should. Thanks to MoreNiche's lifetime cookies, the affiliate who referred this customer will also earn commission for this second transaction, and any more in the future.
Lowerol's lead affiliate manager, Karla Villegas, says "Lowerol currently has two dedicated affiliate managers, including myself. We are available to help affiliates make the most of all that Lowerol and MoreNiche have to offer, and consequently make regular sales."
Find out more about the Lowerol affiliate program at http://www.moreniche.com/offers/lowerol