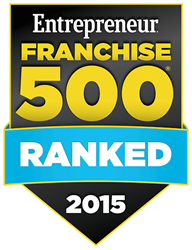 Although we are a mature franchise company with over 20 years of experience, it is exciting to still see levels of double digit growth.
WACO, Texas (PRWEB) February 27, 2015
Entrepreneur's Franchise 500 is an annual ranking of the best franchises based on financial and statistical data listed in surveys completed by franchisors across the nation. All franchises are judged based on identical criteria regardless of size.
The list honors franchisors that offer the best opportunities for success based on criteria such as financial strength, stability, growth rate, and size of system.
Aire Serv was ranked at 243 on the list. "We are truly excited to be ranked yet again as one of the top franchising opportunities by Entrepreneur Magazine," said Doyle James, President of Aire Serv.
Aire Serv has seen a successful year of growth in 2014. In 2014, they sold 26 new franchise units. As well, previously existing franchise units expanded their service territory. In total, Aire Serv has 197 franchisees worldwide.
"Our growth this year has been good," said James. "Although we are a mature franchise company with over 20 years of experience, it is exciting to still see levels of double digit growth."
The Dwyer Group, the parent company of Aire Serv, saw exceptional growth across the entire conglomerate in 2014. "Our growth and success throughout the entire system is reflected in this ranking," said Mike Bidwell, CEO of The Dwyer Group. "2014 was a year of success for us."