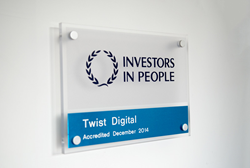 We pride ourselves on retaining great staff through ongoing staff development and fostering an enjoyable work space.
(PRWEB) March 02, 2015
The Nottingham based company specialises in the affiliate marketing industry, supporting hundreds of client brands within four affiliate networks and providing bespoke ecommerce management solutions from both a marketing and technical angle.
The company was assessed in late 2014 against the following five management themes within the core Investors in People Standard; effective management, managing performance, strategic planning, culture and communication, and developing people. The company's strong emphasis on communication, recognition of staff as individuals and encouragement of equal contribution and personal development were judged to be Twist Digital's key strengths, leading to it being awarded the prestigious accreditation.
Twist Digital employees enjoy a relaxed workplace culture with a pet friendly office, flexible working hours and casual work attire policy. Commitment to staff learning and promoting equal development is demonstrated by measures such as ongoing mentoring and training for all, regular visits to industry conferences and resources such as a free staff library.
One employee said 'I love the constant changing and learning every day. Everyone is very friendly, flexible and open, so you feel comfortable asking questions not only in your own team but in others as well. It makes me feel the company is interested in you as a person.'
All of these measures are helping the company achieve its objectives and demonstrate its stated values; 'Twist seeks to reward hardworking, dedicated and passionate colleagues who help individuals and companies progress towards common goals'.
Constantly striving to innovate, the company also recently implemented a 100% ROI driven business model (currently the first and only business within the industry to do so) and encourages affiliate managers to choose the clients brands with which they work. With such strategies, the company aims to remain ahead of their competitors by continually improving and evolving the business.
Twist Digital founder and director Andrew Slack said "We applied for the Investors in People accreditation because it is a real benchmark in business excellence. We know we are an innovative business, constantly striving to do things differently, and the IIP seal of approval sets a precedent for the future of the business by putting in place a framework for ongoing development and improvement."
Operations Director Kirstie Eager said of the award, "Our business is built on the support for our clients and for that we need a motivated and passionate team. We pride ourselves on retaining great staff through ongoing staff development and fostering an enjoyable work space. We are delighted and proud to now be IIP accredited."
Investors in People was established by the UK Government to champion best practice in people management, and their prestigious accreditation is recognised as a mark of excellence across the world.