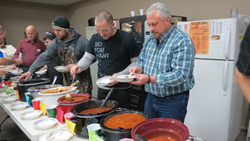 "I never want the end of the work day to come and all my employees scurry out the door like a bomb just went off."
SMYRNA, Tenn. (PRWEB) February 27, 2015
Turner Machine, a custom machine builder and full-service machine shop, added some spice to its already flourishing company culture with Thursday's Sixth Annual Chili Cook-Off. Ten employees brought in their best homemade chili to be judged by their peers in a secret ballot vote. The winner received a $50 gift card and bragging rights.
Just like chili – which blends several ingredients to create something wonderful – Turner Machine is integrating many different activities to create a thriving and harmonious company culture.
"I never want the end of the work day to come and all my employees scurry out the door like a bomb just went off. That's why we've implemented programs to really grow not only the culture here, but also the people," said CEO Jeff Turner. "We are a great company and we want to attract great people."
New hires get introduced to the company culture starting on Day One with the "Best First Day Ever" initiative. On new employees' first day, they are greeted by their company mentor, have a donut celebration thrown in their honor, get taken out to a team lunch and go home with a swag bag filled with company goodies.
Though he entered the workforce at a time when bosses ruled with an iron first, Turner has realized that today's workforce is entirely different. Today's employees, especially Millennials, seek a nurturing work environment, where leaders invest in and inspire their workers. When they find this kind of environment, they are more productive and more loyal to their employer.
"It's really important to me that my employees get more out of their job than a paycheck," said Turner. "You can get a paycheck anywhere. We want to add value to our employees' lives."
In addition to the chili cook-off and "Best First Day Ever" program, culture-building activities at Turner Machine include regular company-wide meetings to set overall goals, personalized hand-written thank you notes to employees' spouses, the Dave Ramey "Financial Peace" program at no charge and nationally know guest speakers like David Rendell, author of The Freak Factor, who talked with employees about how to discover what is unique about them and use it to their advantage in life.
###
Turner Machine Company, Inc. is a full-service machine shop that specializes in building custom machines. The company, founded by Jeff Turner, will celebrate its 20th anniversary in November. Currently, Turner Machine employs around 50 people. It is located 15 miles southeast of Nashville, Tenn., in Smyrna. For more information about Turner Machine Company visit http://www.turnermc.com/ .